1) My first concern is "DID SB NATION FIX THE POLLING FEATURE ON THESE FANPOSTS?"
Nope. The polling feature is now completely gone. I may have abused that feature into extinction.
NOOOOOOOOOOOOOOOOOOOOOOOOOOOOOOOOOOOOOOOOOOOOOO cough wheeze OOOOOOOOOOOOOOOOOOOOOOOOOOOOOOOOOOOOOOOOOOOOOOO
2) The Tampa Bay Buccaneers are going into a situation they've been in only once before: They are entering a season looking to defend their SUPER BOWL SEASON with a repeat return to the postseason and go for a historic BACK-TO-BACK SUPER BOWL WIN.
Back-to-back championships in professional sports is a big effing deal. Especially in the post-expansion eras since the 1970s onward, being the dominant team among 30-32 other teams puts you among the historic elites. The Steelers of the 1970s, the Bulls of the 1990s, the Yankees of the 1920s or 1950s, the Edmonton Oilers of the 1980s. You call them dynasties.
Look to the companion Bay area team representing hockey, the Tampa Bay Lightning: from 2015 onward they have been a dominant, elite team, but having lost big in 2015 (losing the Stanley Cup to another dynasty in the Chicago Blackhawks) and losing a heartbreaking early round exit in 2019 (after tying a league record for most points in a regular season). Following up that 2019 disaster with a vindicating 2020 championship, the Bolts followed THAT up with their own back-to-back 2021 championship, becoming only the second team in the salary cap era (behind Pittsburgh Penguins' 2016-2017 squads) to do so. The Tampa Bay Lightning can rightly claim a dynasty, and can now step into the debates over "Best Team of an Era".
2a) The Tampa Bay Bucs are now poised to do this as well in pro football. As noted earlier during the off-season after the Super Bowl victory, the Bucs are the first team in the NFL's free agency/salary cap era (since the early 1990s) to have ALL the starting players on offense AND defense return from a Super Bowl win. The expectations of this team *knowing* how to win is higher than any previous (yes, even higher than 2003's squad) team.
Which is both a boon - the Bucs are once again in the rare position of being treated as one of the great must-watch teams in football - and a curse.
Because the last time the Bucs were in this spot in 2003, that team painfully fell apart. The locker room tensions between certain players and coaches (cough Keyshawn vs. Chucky cough) led to poor performance (and then no performance) on the field. Injuries took their toll: half the Bucs' Super Bowl-winning offense were out with injury woes, leading to three mid-season low-scoring games the Bucs lost by less than a TD. That Bucs team went 7-9 and out of playoffs where the previous team went 12-4 and Super Bowl champs, and the elite team that had existed between 1997 to 2002 was no more.
This 2021 squad may be in slightly better shape than 2003's, but we can't ignore history and we can't ignore certain realities. This team may have a roster that knows how to get to a Super Bowl - and fearless enough to win it (again) - but it's a team that's a year older and at risk to things like injuries. You have to factor in luck: last season the Bucs were close to losing a number of games, but had pulled out victories in the last quarter here and there to make it to 11 wins and a wild card spot.
2c) Granted, on paper this year's Bucs team may have an easier schedule than what they endured last season, but that's based on last year's bad team records of squads that may have improved THIS year. I'm thinking especially the NFC East teams we're facing this year whose bad 2020 records make them look weak this year on paper. Changes in coaching, free agency acquisitions, returning veterans recovering from injuries, and good draft pickups could well make the bad teams last year (Cowboys and Giants in particular) into good teams THIS year. There's no guaranteed wins ever (unless it's the Lions in Week 15 with half the coaching out with COVID) and why we throw around clichés like "ANY GIVEN SUNDAY" and "THAT'S WHY THEY PLAY THE GAMES".
3) This is one reason why I loathe to make any grand predictions for how the season will turn out. It's easy to sit here before Week One and scream "UNDEFEATED 17-0 ALL THE WAY TO THE SUPER BOWL BABY WOOHOO" but let's be real the odds are against that.
...It's better to sit here and scream "WE CAN SWEEP THE NFC SOUTH AND GET TO 12-5 AND A BYE WEEK HELL YEAH HERE'S HOPING WE CAN GET PAST THE RAMS TO FACE THE BUFFALO BILLS IN SUPER BOWL LVI WOOHOO!"
Okay, seriously, I'm looking at our 17-game schedule and thinking we have an honest shot at a 12-win season. We have to win the tough ones like Dallas (Week One) and Rams (Week Three) and Patriots (Week Four and considered league-wide THE GAME OF THE YEAR) and Colts (Week 12) and Bills (Week 14). We can do well against our NFC South teams who are all in serious rebuild modes either with new coaches (Atlanta) or new QBs (New Orleans and Carolina) or teams ravaged by free agency losses (New Orleans). We are facing an NFC East undergoing massive rebuilds and recoveries from injury woes of 2020 that can arguably resume losing seasons (although Washington looks like they have a solid defense to keep them in it).
If there ARE any easy wins on paper, it'll be against the Jets and at least the home games vs. the Falcons and Panthers. BUT YA GOTTA PLAY THE GAMES, people...
4) Still and all, wasn't this off-season one of the greatest in Tampa Bay sports history? Being the first team to win in their own home stadium, and then with that epic boat parade turned into memetic mutation with Drunk Brady (tm) tossing Lombardis like throwing touchdowns? I'm STILL PISSED OFF the NFL Films DVD set did NOT include tape/commentary from that boat parade!!!
4a) I had hopes that the second Bucs' Super Bowl ring - something more iconic than the Lombardi team trophy - would be more team-identifiable than the first one in 2002. The 2002 ring was this bland, trophy-image-only thing that did not have a primary team color on it (red) unlike most other SB rings since the Colts won SB V and included their team logo and their primary blue color.
So yes I was thrilled that the second ring included the Bucs pirate flag in red on the ring's face... and a little surprised the ring was so bloody big.
Thing is, the bling isn't exactly meant for wearing (outside of special occasions). It's meant for display on a mantle or a desk or a trophy case at home. It can get as big as you want to get... but it still looked a little over-the-top for my tastes.
Until I found out YOU CAN TAKE THE TOP OF THE RING OFF: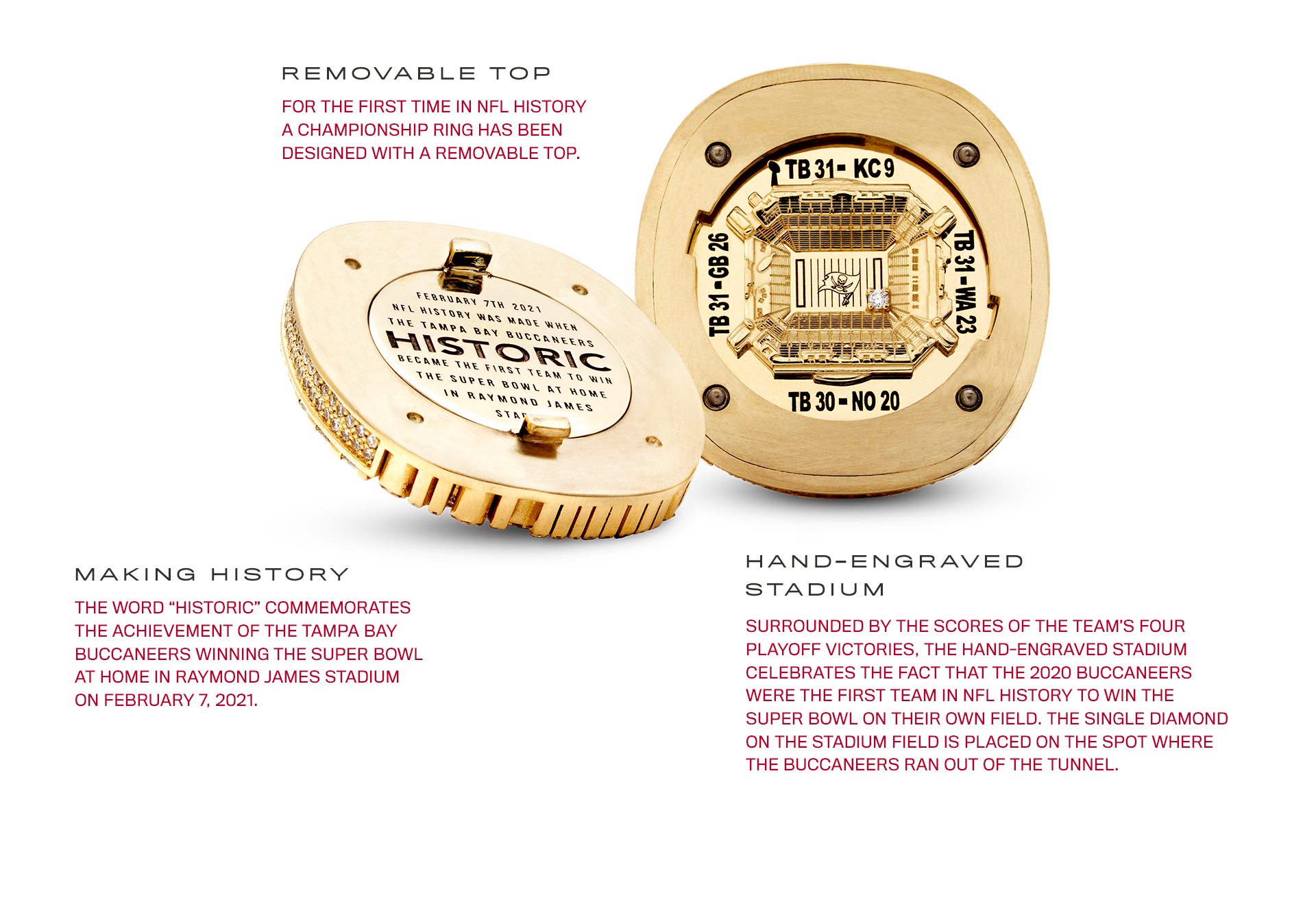 It's the first SB Ring ever to do that, it helps explain its' size, and it includes a miniature of the Ray Jay to honor the first at-home SB win in NFL history.
Don't you love how advanced 21st Century metallurgy is nowadays? SWEEEEEET.
5) Do I see anything else in particular about this upcoming season?
Only my concern about the ongoing pandemic. COVID-19 hasn't gone away, it's mutated into a Delta variant, and while there's effective vaccines out there that can help reduce the risks of spreading the virus further, not everyone has gotten those shots (and enough of them are adamant against it to mean we're all not in the clear).
Under normal circumstances, I'd love to go to a home game to cheer on the Bucs again. Given how this season most games are sold out already suggests a lot of us want to. But these aren't normal circumstances. I'm not even convinced it's safe to eat out at Sports bars just yet. I'd like to, but even vaccinated I am wary of catching COVID (I am diabetic and suffering from sleep apnea, two morbidity factors, I am still at risk of serious illness if I get it).
5a) The fears surrounding COVID may have already impacted the NFL season: some players are retiring or getting cut from teams because they are refusing to get vaccinated (for either personal beliefs or because they're idiots getting misinformation off Facebook). Cam Newton, the once-and-maybe-not-future Prince That Was Promised, got cut from the Patriots in favor of rookie Mac Jones. Granted, Jones is a coveted first-rounder coming from a vaunted collegiate program, but cutting Cam without even trying to trade him away for a draft pick seems like a wasted effort. Unless you consider the stories that Cam wasn't vaccinating or following league protocols to avoid COVID, in which case no other team wanted that headache. The Pats are denying they cut him over that (probably to avoid getting sued by Cam later if he can claim wrongful termination), but it's telling that QB-needy teams aren't jumping yet at the chance to have Cam on their roster even as a back-up (Cam may want to start but he's got to admit to the reality he's not the player he was 5-6 years ago).
6) In other NFL news, is anyone prepared for the possibility of a Detroit Lions - Cleveland Browns Super Bowl? Yeah, I know, it will signal the End Times, but seriously the Browns might make it this year...
7) In professional ice hockey news: I just mentioned it earlier but it bears repeating: YOUR STANLEY CUP WINNING TAMPA BAY LIGHTNING JUST WENT BACK-TO-BACK CHAMPIONSHIPS! They are the 18th team to have at least one back-to-back (to be fair back when pro hockey was just 6-8 teams it was a little TOO easy to go back-to-back), just the second in the modern cap era (behind the Penguins), and when you put these two years together with the 2019 season (with the painful first-round loss to Columbus) you can argue this is one of the greatest hockey rosters of ALL time (fans have comforted themselves with the belief that the 2019 shocking loss became motivation for the 2020 and 2021 teams to win it all).
7a) We need to acknowledge that the idea of having a boat parade instead of a street parade came from the Bolts. While motivated to enforce social distancing at the beginning of a pandemic year, the boat parade is now a signature thing for Tampa Bay because the Hillsborough River is a scenic spot to pull one off.
7b) It's just don't expect the Bolts to go tossing that Stanley Cup from boat to boat the way the Bucs did. The Lombardi Trophy is a little more aerodynamic than the Stanley. And it's already been proven (by one too many pool parties) that the Stanley Cup does not float.
8) In professional baseball news: GO RAYS!
One of the joys of 2020 in such a dark time for the world around us was watching our Tampa Bay sports teams - Bucs, Bolts, Rays - dominate in their leagues and make their respective championships. It's rare to see when ALL the pro teams of a media market reach their Big Game(s). You might see it with a big sports town like New York, Los Angeles, or Boston that have teams regularly make postseasons, you might see it with towns that can make it except for the jinxes occasionally haunting certain franchises like in Detroit or Chicago or Houston or Miami or St. Louis (for example you'd think Miami could since they have teams in all four major pro leagues, but the few ups and many downs of the Dolphins/Marlins/Heat/Panthers since the 1990s rarely got them in-sync).
But Tampa Bay isn't one of those major metros, are we? Let's be honest about that, we don't have the history or glamor of a sports town like New Yawk. And yet, being a sports town is one of the key elements of Tampa Bay in the first place: aside from the Gulf Coast beaches, what else defines the Bay? We're not flashy or international like Miami, we don't have the theme parks of Orlando...
And so we are known - infamously so - with our sports teams. Painfully so considering the many years these teams have been treated like forgotten redheaded cousins. "A hockey team in Florida?" screamed the purists who still can't figure out why the Lightning are here (and this successful where other Southern teams - cough Atlanta cough - couldn't make it). The Tampa Bay Yucks, remember all that? The 0-26 years being Johnny Carson's punching bag on late night, and the mock-worthy winking Bucco Bruce logo, and the creamsicle jerseys, and the 5-11 teams between 1985 through 1996 that could never scare anybody?
And into all this I give you the Tampa Bay Rays: an afterthought of an expansion team from the 1990s with a bad early name (Devil Rays) and questionable team colors (could we ever choose just one, please?), and forced to play in a concrete tomb of a ballpark that was outdated within a year of it being built in the mid-1980s, before the team even moved in?
Even after the name change to just Rays, and a better color option (blue / yellow), and smarter ownership, and better player development, and winning seasons since 2008, this team doesn't get as much respect on the national stage than they do. We're still viewed as a small-market aberration, a winning franchise that can't keep any players or get any stars signed up in free agency, stuck in the most hated ballpark in the sport with its evil low-hanging catwalks.
If the major media (ESPN) ever talks about the Rays this season, it's not about how we're 7 games up over the Yankees in the AL East lead, it's how the Trop still gets less than 5,000 people to root for a winning team, dissing a fanbase that A) is still trying to avoid getting COVID THANK YOU VERY MUCH, and B) has been telling everyone for years that they can't drive to downtown St. Pete and somebody needs to plop $250 million or more down on a ballpark in Westshore or downtown Tampa area that's easier to get to. YES, WE KNOW TURNOUT SUCKS. IT'S NOT OUR FAULT, KORNHEISER. CHECK THE TV RATINGS, OUR NUMBERS ARE STILL GOOD, THERE IS A FANBASE HERE ROOTING FOR OUR RAYS.
8a) Ahem, sorry. I need to focus on the good news here, which is YES INDEED YOUR TAMPA BAY RAYS are leading the AL East heading into September, they're leading the entire AL for that matter, poised to clinch home-field advantage for the American League and make a legitimate shot to go back-to-back World Series.
This is the sticking point now, and actually more pressure on the team than just winning the division or the AL. The Rays are now competing with the other Bay area teams - Bucs and Bolts - to equal their championship wins. Making the World Series isn't enough now: THIS YEAR they GOTS to win it, otherwise they can never live it down...
8b) So who's rooting for a San Francisco - Tampa Bay World Series? BATTLE OF THE BAYS. Let's get er dunn.
9) In college football news: Can somebody please save the endangered South Florida Bull? We were a winning team once, got as far as ranked SECOND OVERALL in 2007, with the stadium packed for home games and good matchups with Big East rivals.
And then Leavitt got forced out for anger management issues. And Skippy turned out to be nowhere near as good as his daddy Lou. And Taggart actually brought the Bulls back up to respectability until Florida St. lured him away and that turned out to be a bad move for everyone involved, and then Charlie Strong turned out to be terrible at recruiting, and now... now do the Bulls even have a team left under Jeff Scott?
9a) One of the things that ruined South Florida football was the rise of the Superconferences and how it shredded a solid football conference in the Big East into a shadow of itself with the current American Athletic. Without the market dominance of the SEC or ACC or Big 10, the American Athletic just isn't attracting better high school recruits.
It's getting worse now with this year's move by the SEC to steal Texas and Oklahoma away from the struggling Big 12 (or Big 8, or whatever they are). As the changes to the money flow make the bigger conferences more enticing, we're about to see the other three Superconferences - ACC, Big 10, and PAC-12 - pick apart what's left of the Big 12 before the Big 12 can pick apart the American.
There's already reports the Big 12 is looking to replace Texas and Oklahoma with Houston, Cincinnati, BYU... and Central Florida. Houston makes geographic sense, as does Cincy (gets them into a coveted Ohio market) and BYU, one of the last big indy schools with a solid collegiate history. Central Florida seems like a huge geographic reach, but UCF gets the Big 12 into Florida (esp. Orlando), and UCF is currently the rising program led by a name head coach and recent on-field successes (an unbeaten season a few years back that deserved better national recognition).
And this might not even be the best move for Central Florida. If the ACC comes acallin' - FSU and Miami may balk, but Texas A&M didn't object to Texas and OU joining their SEC BECAUSE MONEY TALKS so there's reason to suspect they'll be cool with a third FL school - then they're better off joining a more stable Superconference...
And then where does that leave South Florida?
Whatever cachet USF ever wanted in building their football program since the 1990s is fading away. Getting outclassed by UCF due to bad breaks and bad coaching hires just at the worst possible moments. Any motivation to get an on-campus stadium built to improve our fortunes keep fading along with this.
Gods. Just as the pro teams in Tampa are at their apex... the college team is at its nadir.
Can... we just expect the Bulls to win more than two games this year? At least? /cries
10) Next up: Is this a bad time to mention how I dread seeing the Tampa Bay Bucs playing on Thursday nights?
I mean, sure, last time we opened on a Thursday after a Super Bowl we beat Philly in their home. But lately... man... Thursday nights can be a nightmare for us.
SO CAN WE GET AT LEAST A 17-POINT LEAD GOING INTO HALFTIME WITH A CLUTCH END-ZONE CATCH FROM EDELMAN CLONE SCOTTY MILLER EN ROUTE TO A 38-16 WIN OVER THE HATED COWBOYS! GO BUCS!!!
No more polling! PLEASE COMPLAIN IN THE COMMENTS BELOW!