As I chug along ranking positional needs of the Buccaneers, like DT and DE, it occurs to me that my cornerback calculations do not show a decent modeling of the best players. So for the cornerbacks, I had to adjust my own calculations. It worked so well, I applied to the whole secondary! But for now, let's discuss the cornerback position.
So the difficulty of ranking cornerbacks is every scheme is different. Sure, it's the same for other positions but it's exacerbated for the entire secondary. College teams throw away from great cornerbacks and it increases the stats for worse CBs and decreases the stats for stronger CBs. To combat that, it seems the scouts focus more on the Body and Tests columns for cornerbacks. While I did the same, I did involve each player's NCAA stats to a degree.

So the first thing you'll likely wonder is, "Where are all the good players?" Simply put, a lot of them were injured and didn't run tests. That allowed a lot of mid-level CBs to increase their ranks. Players like Daryl Worley and James Bradberry used their size to be 1st and 2nd for their Body scores. Both could play CB, FS, or SS if needed. Vernon Hargreaves takes a huge hit not only due to his height but hand size, arm length, and wingspan. However, his weight and Tests scores do work in his favor. For the Tests ranking, Ian Wells blew it out of the water with a great Pro-Day. And while William Jackson put up a good score for Tests, his broad jump score, lack of vertical jump, and high short shuttle, make me question if he should move to a safety position or play strictly as a bump-n'-run corner. Also, Eli Apple put up solid scores for both Body and Tests columns.
NCAA Scores

So after adjusting for competition and games played, multiple players stuck out to me. Russell, Murray, Anthony Brown, and Daryl Worley all had over 4 tackles per game. That leads me to believe they played very well or also played other positions. Especially with Brown and Worley having high tackles for loss. Other than that, Hargreaves redeemed himself with a good showing while at Florida with about one interception per four games. Due to Houston's bend-don't-break approach to defense, Jackson was able to have a lot of opportunities to make plays. His 1.03 passed batted up per game is 2nd compared to all CBs in the 2016 NFL Draft.
Overall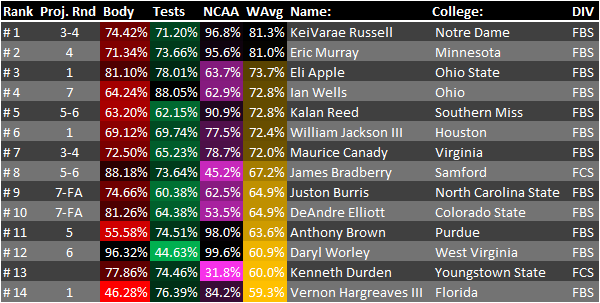 While many Buccaneers fans are shooting for Vernon Hargreaves with the #9 pick in the draft, there are other options later in the draft. Some fans have mentioned drafting William Jackson or Eli Apple but both have flaws. William Jackson has athletic issues while Eli Apple benefited from a great Ohio State defense. While not from well-known schools, KeiVarae Russell and Eric Murray put up great numbers and will be available later in the draft.
Since mini camp started yesterday for the Buccaneers, fans were able to see that Alterraun Verner and Brent Grimes are the starting CBs and Jonathan Banks and Josh Robinson are the back-ups. That's fairly stacked in my opinion and I feel the Buccaneers will wait until later in the draft to address this position, if at all.
Notable Players
Mackensie Alexander-(#198)- Yes, out of 255 cornerbacks, I have Alexander ranked that low. Simply put, his work at Clemson is one of the worst of all CBs going into the draft. He has average size and athleticism but he faces the same problem as Apple. Is he a product of the system?
Artie Burns-(#49)- Burns has the size to play cornerback but he lacks the explosion to cut with WRs and get off the line. He could switch to the FS position, which could cover some flaws, but at CB he'd need to join the right system.
Xavien Howard-(#45)- Howard is an enigma for me. He just barely missed out of being higher in the ranks due to his Tests scores but overall, he seems like a solid player. He performed well at Baylor and has the body to play CB. It's likely that he could fit into a slot corner role or as a decent back-up.
Jalen Mills-(#34)- So it may be a surprise that Mills is on here as a CB considering he played mostly FS at LSU. But he's on here for that reason, he can play both positions. He's a little slow for a CB but he could be a hybrid player in 3-Deep coverage or 1-High with a slot corner. His value is he is a jack-of-all-trades.
Kendall Fuller/Will Redmond- Due to injuries, both players ranked extremely low on my rankings. Now, Fuller played better and has size, but will his injury effect his training camp and eventually his NFL Career?