Yesterday I reviewed the top defensive ends in the draft, using NFL Combine, NCAA Pro Days, and NCAA stats to show how well a prospect may play in the NFL. For this article, I'll apply it to defensive tackles. While most of the equations are the same, the specific stats used to judge defensive tackles and the weights applied to them are different.
NFL Combine and NCAA Pro Days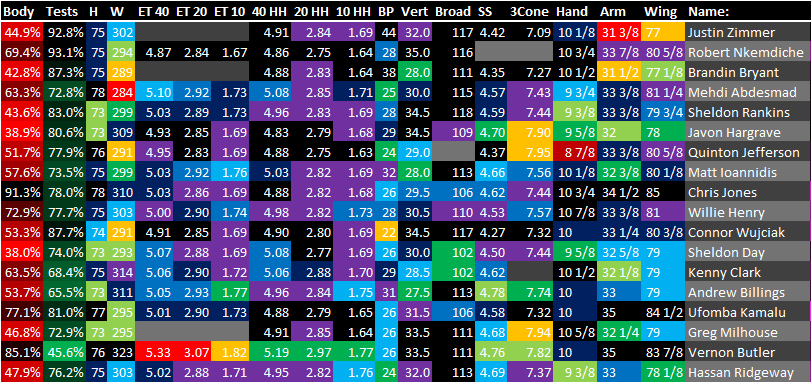 It's not a complete surprise that Robert Nkemdiche had the best Test rating out of all DTs. He has shown time and time again that he is an athletic player. However, it's a little shocking to see Justin Zimmer, out of Ferris State as a close second. The difference between the two is that Zimmer has the strength and size to be a NT in the 4-3 system while Nkemdiche has the athleticism and arm length to play DE in a 3-4 or an under tackle in a 4-3 system. There are players similar to Zimmer like Javon Hargraves, Kenny Clark, and Andrew Billings. On the other hand, Brandin Bryant, Mehdi Abdesmad, and Connor Wujdak could all be 3-4 DE/4-3 DT hybrids. As a pure pass rushing DT, keep a look out for Sheldon Day and Sheldon Rankins. For NT, look no further than Vernon Butler. At 323 pounds, he was still able to show in the 90-100% for vertical and broad jumps, which shows explosiveness.
NCAA Stats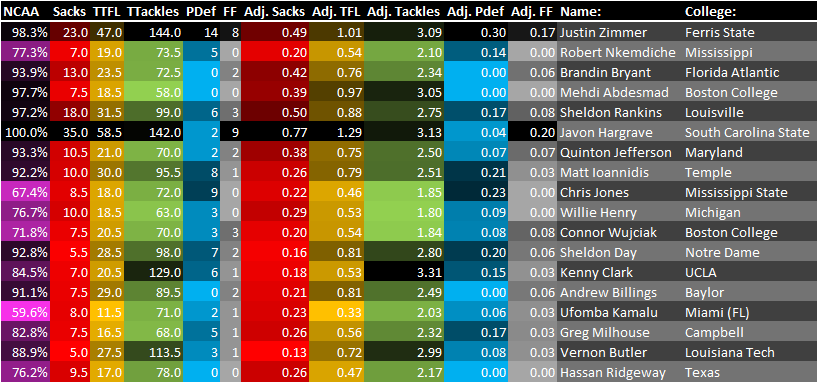 While Nkemdiche was king of the NFL Combine, he was the Jester during his NCAA Career. In the last three years, he put up a measly 7 sacks. On the other hand, small school prospects, Zimmer and Hargrave, dominated with over twenty sacks and over forty five tackles for loss. Even adjusting it down only allowed Sheldon Rankins to pass Zimmer, but Javon Hargraves is king. There weren't that many other DTs that could get to the QB. Quinton Jefferson, Brandin Bryant, and Mehdi Abdesmad were the few that could. But there were a lot of run stopping DTs. Everyone listed including Sheldon Day, Andrew Billings, Vernon Butler, and Matt Ioannidis all provided good run support. But in the end, a few disappointed like Chris Jones, Ufomba Kamalu, and Connor Wujiak.
Overall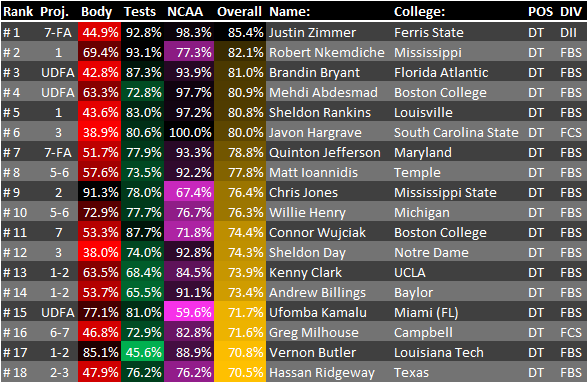 In the end, Justin Zimmer takes the cake as the top defensive tackle in the draft. While it's weird to have a DII player as the top ranked person on a list, it's not entirely surprising. He played well at Ferris State and should be a good run stopper. One of the biggest possible busts would have to be Nkemdiche. Sometimes he played like Gerald McCoy and other times he played like Tony McDaniel. It's really up to him if he wants to succeed.
Since the Buccaneers believe that defensive tackle is just as important as defensive end this draft, I believe they will draft a NT to take over for Clinton McDonald and make McDonald the back-up to McCoy. That way the Buccaneers can see if Akeem Spence and the new pick can hold their own. With that being said, it seems the best player for that is Javon Hargraves. He has the size and production to be a nose tackle with ability to rush the passer. My only concerns as a pass rusher would be is his arm length and agility. Another option could be Vernon Butler, who reminds me of Mike Smith's Jacksonville Jaguar defensive tackles, or Kenny Clark.
Notable Players
While my calculations of these eighteen players shows they may possibility make it and succeed in the NFL, there are a few notable players who were left off the list. Here are a few of them and why they didn't make it:
A'Shawn Robinson-(#23)-I feel that Robinson was a product of a good Alabama defense. He has decent size to be a run stopper but doesn't have much else. He didn't put up good career numbers at Alabama and his test scores were below average. In the end, he is likely to only be a space-eater.
Jarran Reed-(#38)-See A'Shawn Robinson above.
Austin Johnson-(#42)-Johnson has the big body you'd like as a 3-4 NT. My concern is that he doesn't have any explosiveness and his agility is questionable. He put up a decent 0.63 Adj. TFL but that's average compared to the players above.