Over the past two years, I have been working on a project that uses a player's NFL Combine, NCAA Pro-Day, and NCAA stats to estimate how well a player is going to be in his career. Last year, I was able to gather the NFL Combine and NCAA Pro-Day scores but didn't have enough time to gather the NCAA stats. I never thought it would take me a whole year to gather some of the stats. There were so many issues and my non-Buccaneer life has grown complex. But I was able to find the majority of stats for prospects in the 2016 NFL Draft.
So here is how I worked my magic. After gathering the NFL Combine and NCAA Pro-Days, I combined them except for the straight line tests (40yd, 20yd, 10yd splits) for all players. That's because combining the electronically and hand held timed numbers greatly influence, badly, the scores of prospects. That way, players who are not invited to the NFL Combine, where all timing is the same, get a fair shot. So by doing that, I created 16 tests instead of 24 tests to judge players.
I split the tests into two categories: Body and Tests. For the Body section, I compared the height, weight, arm length, wingspan, and hand size to former prospects in their "listed" position. Some prospects like J.R. Sweezy have changed from defensive tackle to offensive guard but I still graded him as a defensive tackle. For the Tests section, I used the combined tests scores and also compared them to former players. Using the percentile of each test, I was able to gather the scores for columns Body and Tests.
Then, the new addition this year, I worked my butt off to find all of the stats each player had in his NCAA career. Due to time constraints, I was only able to grab the previous three seasons from 2013-2015. Using those stats, games played, and adjusting for competition over four divisions, I was able to analyze how well a player was compared to his peers. For Defensive Ends, this is what I came up with.
NFL Combine and NCAA Pro Days

When I combined the scores, I chose the best score of each test. Charles Tapper was the best DE to run his tests but I am concerned he didn't run his agility tests for a reason. Also, Shawn Oakman, ignoring his character issues, had a terrible showing at the NFL Combine. But both players, including Matt Judon, would be great as LDE or 3-4 DEs due to their size and limited agility. For pass rushers, Emmanuel Ogbah is the "picture perfect" DE a team would like to draft. He's big, fast, explosive, and has decent agility. However, Joey Bosa and Shaq Lawson both seem to have the necessary athleticism to play well in the NFL. The five that may be great players but don't have the size are Cowser, Spence, Yarbrough, Calhoun, and Albright. They could either get bigger, play as a specialist, or could play as a 3-4 OLB.
NCAA Stats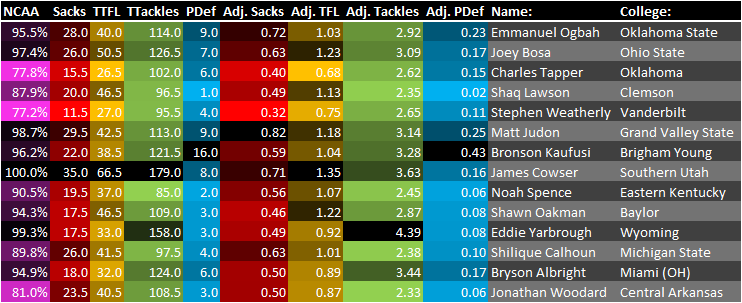 So you're probably wondering why I am showing the adjusted totals instead of the "normal" totals for each column. Well, I adjusted players like Judon, Cowser, Spence, and many more down due to the lack of competition in lower levels of the NCAA. Also, I divided the totals by the amount of game played. That gives me a generalization of who has performed well in college. It's a surprise that Matt Judon had the highest adjusted sack total in the NCAA but James Cowser was the one to beat many of Jared Allen's records. As you can see, Weatherly and Tapper performed okay at their schools but mainly used their other scores to get their ranks. Also, Ogbah, Bosa, and Calhoun have a knack for getting in the backfield. What's surprising is how Kaufusi was used at BYU considering his size. Having a 285 pound DE drop back into coverage often is crazy.
Overall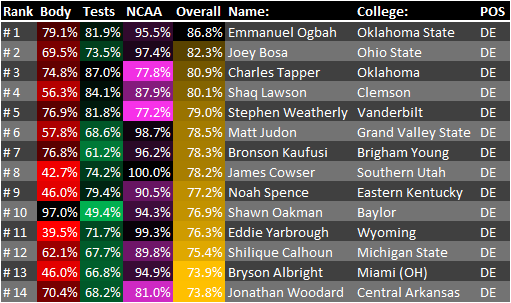 So I was surprised that Emmanuel Ogbah was #1 on the list. Also, players like Charles Tapper and Stephen Weatherly used their Body and Tests scores to springboard them to the #3 and #5 ranks. What I was not surprised was to see Joey Bosa in the top 2, small school prospects Matt Judon and James Cowser make the top 10, and Noah Spence show up in the rankings. Even though I found a singular number for each player, scouts still need to look at each individual test and stats to see why they performed as well as they did.
Notable Players
While my calculations of these fourteen players shows they may possibility make it and succeed in the NFL, there are a few notable players who were left off the list. Here are a few of them and why they didn't make it:
Deforest Buckner-(#17)- He has the body type and career that you'd want for a DE but he performed terribly at the NFL Combine. By terrible, I mean his electronically timed scores ranked in the 0-10% for all DEs who have participated in the test. That with some agility issues knocked him to #17 in the rankings.
Jonathan Bullard-(#18)- Bullard had a good carreer at Florida but compared to everyone, he's average. His body score and test score are average. He may make a good back-up but not much else.
Carl Nassib-(#20)- At Penn State he had a decent career but it's average in the overall view. His test scores don't jump out at you and he has some explosiveness concerns. However, he has the body of a DEs but he may be limited to a back-up role or as a massive 3-4 OLB.
Kevin Dodd-(#28)- Dodd is like the Brandon Weeden of DEs. He is older, slow, performed average, but had a few decent games and looks like a DE.