After the 2006 NFL Draft, the Tampa Bay Buccaneers were locked and loaded to play against one of the most competitive conferences in the NFL. Sadly, most of the year was spent with a QB named Bruce!
Okay, so not that one, but rookie QB Bruce Gradkowski led the team to a 4-12 record after Chris Simms played his spleen out during a Week 3 loss to the Carolina Panthers. That forced the Bucs to trade for QB Tim Rattay from the Washington Redskins in October. The rest of the offense wasn't that much help. RB Carnell Williams never returned to rookie form and got injured in Week 14. WR Michael Clayton also played badly and the offense was led by 35 year old Joey Galloway. The defense wasn't any better either. They lacked a consistent pass rush and the turnovers dried up. In Free Agency, the Buccaneers made some questionable calls. This is what Bruce Allen did: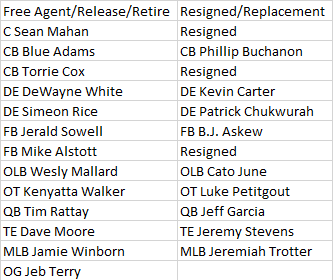 They replaced both starting defensive ends, signed QB Jeff Garcia to run the West Coast offense, and tried to get ready for Mike Alstott's impending retirement due to multiple neck injuries. Also, they traded for QB Jake Plummer from the Denver Broncos but instead of joining the Buccaneers, he decided to retire. That goes to show how exciting it was to be a Buccaneer during this time. So even though Allen made all of these moves in free agency, the Bucs still had holes at: DE, DT, OLB, CB, FS, SS, WR, and LG.
1st Round
In the days coming up to the 2007 NFL Draft, most Buccaneer fans were wanting one player: WR Calvin Johnson out of Georgia Tech. Rumors had it that GM Bruce Allen was looking to trade up to get him, but the cost was too much and he was drafted by the Detroit Lions with the 2nd overall pick. However, that led to a first round that had 15 future Pro Bowlers and the Buccaneers holding the #4 pick in the draft.
With the 4th pick in the 2007 NFL Draft, the Tampa Bay Buccaneers selected Gaines Adams, DE, Clemson.
Based on his NFL Combine and Pro Day information, the only thing a person could question was his playing weight. He had the speed and explosion but was he going to be easily handled by offensive tackles in the league?
From his NCAA stats, on the surface Gaines Adams was the player everyone thought he was. But under that façade, his numbers were high due to a high amount of games played. Of the defensive ends taken in the 1st round, he was ranked 4th out of 5 on a per game basis.
Other Notable Choices before next pick: FS LaRon Landry, RB Adrian Peterson, ILB Patrick Willis, RB Marshawn Lynch, CB Darrelle Revis, OLB Lawrence Timmons, SS Michael Grifin, WR Dwayne Bowe, FS Brandon Meriweather, FS Reggie Nelson, ILB Jon Beason, DE Anthony Spencer, OT Joe Staley, and TE Greg Olson.
2nd Round (A)
The Buccaneers drafted the right side of their offensive line the year before, and the results didn't help for pass protection. After replacing Kenyatta Walker with Luke Petitgout, the LG position needed to be upgrade from LG Dan Buenning, the Buccaneers 4th round pick in 2005.
With the 35th pick in the 2007 NFL Draft, the Tampa Bay Buccaneers selected Arron Sears, LG, Tennessee.

While he didn't work out at the NFL Combine due to a knee injury, his NFL Pro Day didn't disappoint. He ranked in the 80th percentile or better in every category except for bench press. For a player his size, that is extremely good and better than most guards his size.
Other Notable Choices before next pick: SS Eric Weddle, TE Zach Miller, WR Sidney Rice, WR Steve Smith, OLB LaMarr Woodley, and C Ryan Kalil all turned into Pro Bowl players. G Justin Blalock, CB Chris Houston, MLB David Harris, CB Josh Wilson, and C Samson Satele.
2nd Round (B)
The next pick is the fan favorite of the Buccaneer's worst pick ever club. Not due to his lack of playing but rather him playing extremely badly.
With the 37th pick in the 2007 NFL Draft the Tampa Bay Buccaneers select, Sabby Piscitelli, SS, Oregon State.

While I like looking at NFL Combine and Pro Day stats, I know they're not the "know-all" of a player. It just shows whether a player is athletic enough to play in the NFL. With Piscitelli, he was one of those workout warriors. He knocked his scores off the charts. But why wasn't he drafted earlier?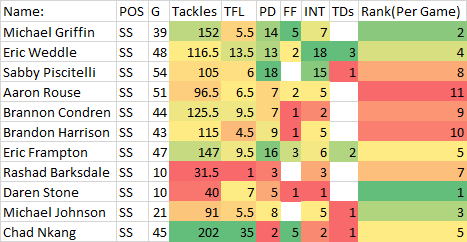 Even his general stats show that he was a ball hawk at Oregon State. But was that due to his ball skills or because he got picked on a lot? On a per game basis, he wasn't that good. Which makes me believe he didn't play well on tape.
Other Notable Choices before next pick: SS Usama Young
3rd Round
After covering some of the significant needs on the offense and defense, the Buccaneers decided to draft for depth with their 3rd round pick.
With the 68th pick in the 2007 NFL Draft, the Tampa Bay Buccaneers selected Quincy Black, OLB, New Mexico.

With his scores, Quincy Black looked like a typical 4-3 OLB. He had the speed to cover the zone and explosiveness to get there. The only question mark was his change of direction in which he ranked in the 50th percentile. Basically, if he over-pursued the play or needed to cover a tight end, he couldn't recover.
While at New Mexico, he put up very good stats that compared well to other drafted OLBs. The issue was that New Mexico played in the Mountain West conference and didn't play against highly competitive schools. So could the question was could he play with the big boys?
Other Notable Choices before next pick: DE Charles Johnson, WR James Jones, WR Mike Sims-Walker, DT Brandon Mebane, G Marshal Yanda, DE Ray McDonald, and DE Brian Robinson.
4th Round
As an update, the Buccaneers needs have dwindled to DT, CB, FS, and WR. In the 4th round, Bruce Allen traded with the Minnesota Vikings to drop back from 102nd to 106th for the 182nd pick in the 2007 Draft. With the extra time needed to likely convince the draft room, the Bucs chose a player with talents but had questionable off-field issues.
With the 106th pick in the 2007 NFL Draft, the Tampa Bay Buccaneers selected Tanard Jackson, FS, Syracuse.

Many question what the difference between a free safety and a cornerback is. Tanard Jackson is a perfect example to explain it. First off, the speed of a free safety is generally 0.5 seconds slower at the NFL Combine. Also, a free safety doesn't need to have a high vertical jump. Lastly, a free safety usually has a 0.1 to 0.2 slower short shuttle time than cornerbacks of a similar size. Tanard Jackson wasn't a workout warrior but he did show each of these traits.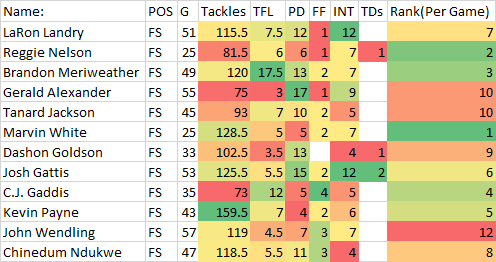 While at Syracuse, Jackson didn't put up good numbers. He was average at best and his per game numbers were even worse. However, that isn't the whole story. Due to his prying eyes, he read the QB's eyes well enough to dissect plays. Tanard Jackson was a good player but he wasn't attacked a lot on defense. That's why his game tape was a valuable tool to drafting him.
Other Notable Choices before next pick: DT Paul Soliai, OT Doug Free, OT Jermon Bushrod, FS Dashon Goldson, and MLB Clint Sessions
5th Round
As on cue, the Buccaneers decided to draft someone who didn't make sense.
With the 141st pick in the 2007 NFL Draft, the Tampa Bay Buccaneers selected Greg Peterson, DE, North Carolina Central.

As a Tampa 2 defensive end, you want to be fast but also good against the run. While it looks like he had speed for days, his broad jump was in the 10th percentile and his 3-Cone test was one of the worst for a defensive end since 2000. I feel like the front office got enamored with his speed and forgot everything else. I couldn't even find game tape or stats.
But I do have stats for other defensive ends taken after Peterson. Sadly, there were other quality options at the 141st pick in the draft.
Other Notable Choices before next pick: WR Steve Breaston, CB Tarell Brown, G Uche Nwaneri, DT Antonio Johnson, TE Brent Celek, CB Corey Graham, CB William Gay and K Nick Folk.
6th Round
With the 182nd pick in the 2007 NFL Draft, the Tampa Bay Buccaneers selected Adam Hayward, OLB, Portland State.
Although I usually wait until the 7th round to not compare stats, Hayward's scores were compared earlier in the 3rd Round. The same questions with Quincy Black also apply to Hayward. Also, he was coming up from a FCS school and would have a jump up in competition. If he didn't make a good linebacker, he would've been good at special teams due to his speed.
Other Notable Choices before next pick: K Mason Crosby
7th Round
With the 214th pick in the 2007 NFL Draft, the Tampa Bay Buccaneers selected Chris Denman, OT, Fresno State.
It wouldn't be a Bruce Allen draft without a player who never played a game for the team. Although he had stature, Denman had nothing else going for him. The guy was one of the slowest offensive tackles to ever run at the NFL Combine.

With the 245th pick in the 2007 NFL Draft, the Tampa Bay Buccaneers selected Marcus Hamilton, CB, Virginia.
With the 246th pick in the 2007 NFL Draft, the Tampa Bay Buccaneers selected Kenneth Darby, RB, Alabama.
The last two picks in the draft were back to back. Hamilton was a middle-of-the-pack guy. He wasn't too fast or too slow but for a late 7th round pick, he was worth a shot. With Darby, we got one of the slowest running backs in the draft with very weak legs based on his vertical (11-20th percentile) and broad jump (0-10th percentile).
Notable 7th Round Picks: SS Michael Johnson, P Brandon Fields, RB Ahmad Bradshaw, and FS Nedu Ndukwe.
Notable UDFAs: QB Matt Moore, RB D.J. Ware, WR Eric Weems, OT Jared Gaither, OT Donald Penn, C Lyle Sendlein, DE Mike DeVito, DE Antwan Applewhite, OLB Nick Roach, SS Craig Dahl, SS James Ihedigbo, SS Melvin Bullitt, and many more.
Conclusion
While the draft as a whole could be deemed a failure, some players were quality depth for the team. Arron Sears played great football until a mental health issue finished his career after two years and 31 games started. Quincy Black and Adam Hayward were good back-ups and quality special team's players. Black was even able to get an extension, that was entirely not earned. Tanard Jackson had three good seasons with the Buccaneers until he got injured and resumed his college days of smoking weed. Gaines Adam played 2.5 seasons with the Buccaneers before he was traded to the Bears for a 2nd round pick and then passed away that following offseason. And Sabby Piscitelli found a way to piss off every Buccaneers fan but now is trying a career in the WWE. Of course, if the Bucs could go back and change it, they would. But as we all know, it was the beginning of the end of the Bruce Allen and John Gruden regime.
Guide
Special thanks to CBSSports.com, NCAA.org, Pro-Football-Reference.com, and Sports-Reference.com for their help.