When I decided to look at drafts, I did expect to run into other articles that focused on our previous drafts. What I didn't know was that our own Sander Philipse did a run of articles in 2011 about some of the drafts. Here is his article from 2005.
After the 2004 season, where the Tampa Bay Buccaneers went 5-11, the Bucs received the 5th overall pick in the 2005 NFL Draft. In 2004, the offense had three quarterbacks start during the season, recently signed RB Charlie Gardner get so injured he had to retire, and big signing LT Todd Stuessie only start five games and lost his job to LT Derrick Deese. The one positive was 2004 1st round pick WR Michael Clayton put up the 5th best rookie season for wide receivers ever. Due to the injury to Gardner, Michael Pittman had to pick up the slack behind the A-Train, Mike Alstott. While Pittman put up 926 yards rushing, the Buccaneers were ranked 29th in the NFL. On the flip side, the defense stood strong but cracks were starting to show in the run defense (19 vs. 13) and turnover department (26 vs. 8).
Due to having salary cap issues, GM Bruce Allen had a few choices to make. Here's what he did:
Free Agent/Release/Retire
Resigned/Replacement
QB Brad Johnson
G

Cosey Coleman

LT Anthony Davis
Resigned
TE Dave Moore
Resigned
TE Ken Dilger
TE

Anthony Becht

WR Joe Jurevicius
WR Ike Hilliard
WR Joey Galloway
Resigned
DT Chuck Darby
DT Chris Hovan
SLB Ian Gold
SLB Ryan Nece
Resigned
CB Mario Edwards
CB Juran Bolden
FS

Dwight Smith

SS Dexter Jackson
Resigned
K

Martin Gramatica

K

Matt Bryant
Overall, GM Bruce Allen found quality players in free agency but didn't fill all of the positions. The offensive line had holes at guard and left tackle due to Deese and Steussie playing badly and Coleman leaving in free agency. The running back position was thinned out due to Gardner's forced retirement. And while the Buccaneers drafted SS Jermaine Phillips in 2002 to replace Dwight Smith, depth across the defense was thin with multiple players being on the wrong side of 30.
1st Round
With the Buccaneers having holes at RB, G, LT, DT, DE, MLB and Depth, they needed to plug them. This draft was all about the top three running backs coming out of school. It was the first time since the NFL-AFL merger that three running backs go in the first five picks in the NFL Draft.
With the 5th pick in the 2005 NFL Draft, the Tampa Bay Buccaneers select, Carnell "Cadillac" Williams, RB, Auburn.
Although he wasn't as fast as Ronnie Brown or as strong as Cedric Benson, Williams was an all-purpose back. He came off a college season where the Auburn Tigers were left out of the BCS Championship and he got All-American honors. In essence, he was the pick we needed.

When comparing the top drafted running backs, I look at their production per game to see who was better. I ran the comparison with 18 other drafted running backs/ fullbacks from 2005 and came up with these results. The rank was based on 75% rushing stats and 25% receiving stats.
If the Buccaneers wanted to go another way with their pick, it may have been wrong the wrong choice. Out of the past 16 drafts, the 2005 draft was the worst at finding value in the Top 10 picks. In conclusion, we could have waited for a running back and drafted someone else but Carnell Williams was a good pick.
Other Notable Choices before next pick: OLB DeMarcus Ware, MLB Derrick Johnson, MLB Thomas Davis, LT Jammal Brown, LT Alex Barron, QB Aaron Rodgers, LG Logan Mankins, and LG David Baas.
2nd Round
In the second round, there was much to do. The Buccaneers had major holes at guard and middle linebacker with much depth needed to make the team better. Luckily, Allen chose to fill a major hole.
With the 36th pick in the 2005 NFL Draft, the Tampa Bay Buccaneers select, Barrett Ruud, MLB, Nebraska.

While he fit the need at middle linebacker, I have to question his athleticism. He lacked the explosiveness shown in both jumps, had slow speed for a middle linebacker in the Tampa 2, and was stiff in the hips. Based off the numbers, Kevin Burnett was a more athletic option.
However, the production showed otherwise for Burnett. On a per game basis, Ruud showed that he belonged as the second MLB off the board. When you combined his athleticism and production, he was second to Derrick Johnson. The only question was he able to perform well in the Tampa 2 defense under DC Monte Kiffin.
Other Notable Choices before next pick: DT Jonathan Babineaux, RB Frank Gore, WR Vincent Jackson, MLB Lofa Tatupu, and OT Michael Roos
3rd Round (A)
With the 71st pick in the 2005 NFL Draft, the Tampa Bay Buccaneers select, Alex Smith, TE, Stanford.
With this pick, I question the actual need for a TE. While Moore wasn't considered a pass catching tight end, Anthony Becht was signed for that very reason. The Bucs had needs at G, LT, DE, DT, and depth after two rounds they went into left field on this choice.

Considering all he did was the Bench Press at the NFL Combine, I can't compare him to other drafted players. It wasn't a deep draft after Heath Miller, but there were other options at TE in the later rounds.

By the average rank across 2005 drafted TEs, Alex Smith was the 3rd best TE. Even throwing in some of the awards he won, Smith was not worth a 3rd round pick. Considering Bo Scaife performed average at the NFL Combine and had better NCAA production, he would've been a better choice.
Other Notable Choices before next pick: DE Justin Tuck, DT Sione Pouha, LG Evan Mathis, and RG Richie Incognito.
3rd Round (B)
With the 91st pick in the 2005 NFL Draft, the Tampa Bay Buccaneers select Chris Colmer, OT, North Carolina State.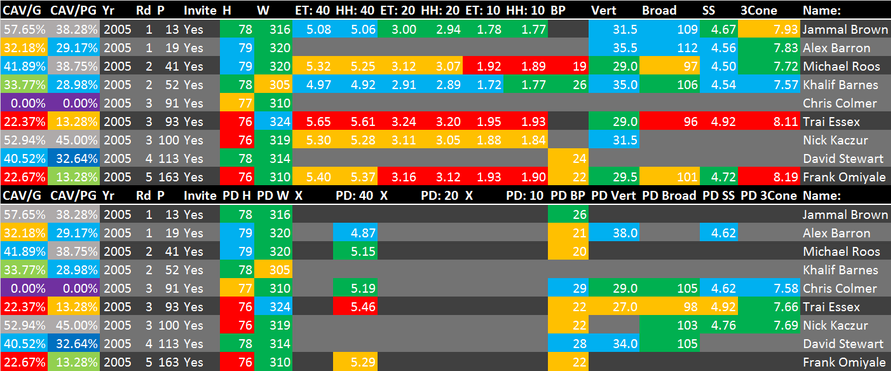 Coming out, Chris Colmer was one of the most athletic OTs in the draft. However, he had questions about his health as he lost a season at NC State due to Parsonage Turner Syndrome. At NC State he was asked to be a road grader, or run block. It made him a good option at RT. If you didn't know, that same illness ended his career after two seasons.
Other Notable Choices before next pick: QB Kyle Orton, OT Nick Kaczur, and MLB Leroy Hill.
4th Round
With the 107th pick in the 2005 NFL Draft, the Tampa Bay Buccaneers select Dan Buenning, OG, Wisconsin.
At Wisconsin, Buenning won the First-Team All-Big Ten award in 2004 and was a second-team All-American. He had great work on tape but his combine scores lacked athletic ability.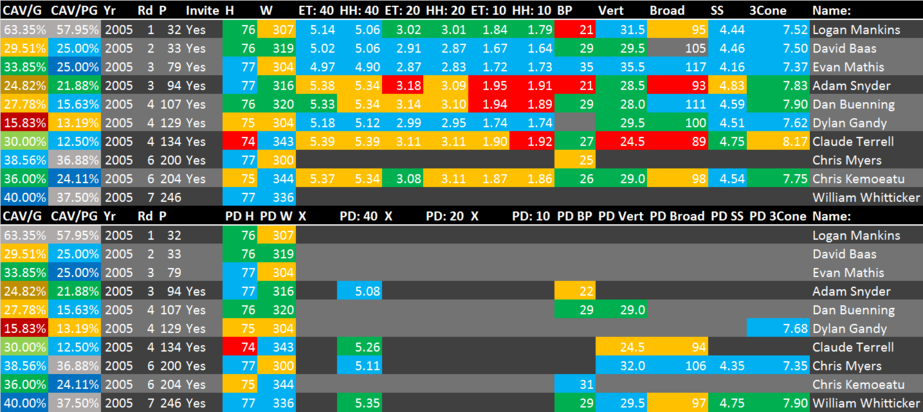 While speed isn't everything, the 10 yard split is important for offensive linemen. Buenning ran one of the slowest times in that department. And with a just above average showing of 28" with his Vertical test, he left much to be desired. So while his tape may have been good, his performance couldn't increase in the NFL.
Other Notable Choices before next pick: C Eric Ghiaciuc, OT Todd Herremans, OT David Stewart, RB Brandon Jacobs, RB Marion Barber, RB Darren Sproles, and FS Kerry Rhodes.
5th Round (A)
With the 141st pick in the 2005 NFL Draft, the Tampa Bay Buccaneers select Donte Nicolson, SS, Oklahoma.
To add depth at safety due to Dwight Smith's departed, the Bucs drafted Nicolson. He won the 2004 First-Team All-Big 12 award for safety but sadly, he played like Jane.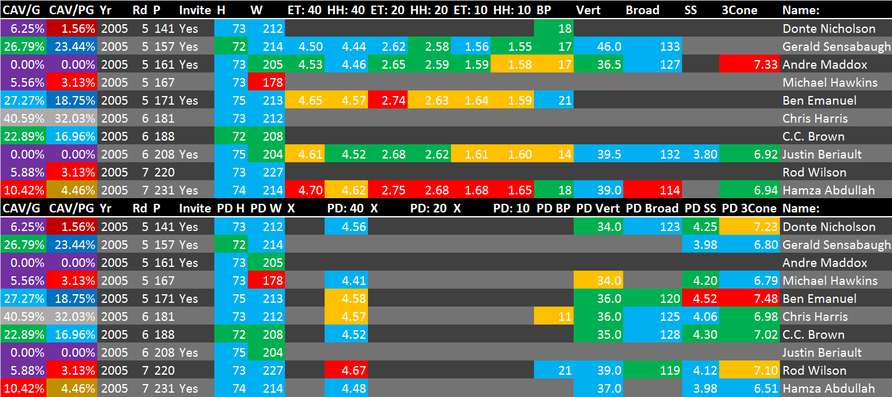 Donte Nicholson may have been big in statue but his athletic ability was average. Overall, he could do everything good enough to be a back-up but potential growth was reached in college.
Of the remaining safeties that were drafted, Nicolson's production was, again, average. Gerald Sensabaugh, Ben Emanuel, and Chris Harris all showed quality production unlike Nicolson. Out of those three, Sensabaugh and Harris had the athletic ability to play in the NFL.
Other Notable Choice before next pick: OLB Trent Cole
5th Round (B)
Before the next pick for the Buccaneers, Bruce Allen decided to trade back from the 144th pick to the 155th pick and received an extra 7th round selection. The big issue was that Allen was terrible at finding diamonds in the rough.
With the 155th pick in the 2005 NFL Draft, the Tampa Bay Buccaneers select Larry Brackins, WR, Pearl River Community College.
Honestly, what was Allen thinking of drafting a community college player into the NFL with a 5th round pick? Well, he did win multiple awards for being the best WR in NJCAA and MACJC. If you don't know what those are, they are acronyms for junior college football. I had to look it up. And what makes it more of a question mark is his NFL Combine and Pro Day test results.

Compared to our very own Vincent Jackson, you can see that Jackson is the same height but weighed 36 pounds more. Yet, he beat him in every category. Sadly, Brackins never played a snap in the NFL.
Other Notable Choices before next pick: OLB Michael Boley and FS Gerald Sensabaugh.
6th Round
With the 178th pick in the 2005 NFL Draft, the Tampa Bay Buccaneers select Anthony Bryant, DT, Alabama.

The biggest defensive lineman that the Buccaneers have drafted going back to 2000, I assume the Bucs wanted him to play NT. With Monte Kiffin playing the Tampa 2, Bryant's only role would be as a rotational run stopping DT. His NFL Combine numbers back that up.
Again, Bruce Allen decided to trade a draft choice. The good thing is that it was for QB Luke McCown instead of his shotgun blast approach at late round draft picks.
Other Notable Choices before next pick: FS Chris Harris, OG Chris Myers, TE Bo Scaife, DE/DT Jovan Haye, and OG Chris Kemoeatu
7th Round
With the 221st pick in the 2005 NFL Draft, the Tampa Bay Buccaneers select Rick Razzano, FB, Mississippi.
With Rick Razzano, the Buccaneers finally chose someone based on their athletic results. The problem was he was a FB in the last round. If they would've looked at team information, they would see that Mississippi had a very bad average yards per rush rate. Since they ran the Power scheme, the FB should do a lot of blocking. In this case, not very good blocking.
With the 225th pick in the 2005 NFL Draft, the Tampa Bay Buccaneers select Paris Warren, WR, Utah.
With Paris Warren, Allen drafted the slowest WR in the draft. At 4.68 seconds, that also rivals Michael Clayton's 40 times. Considering there were only 3 WR taken after him, there were no other options at WR but plenty at other positions.
With the 231st pick in the 2005 NFL Draft, the Tampa Bay Buccaneers select Hamza Abduallah, SS, Washington State
With Hamza Abdullah, the Bucs got one an average speed SS who was terrible at the 10 and 20 yard runs. What he could do was jump high and change direction very quickly. Although he didn't catch on here, he has been a decent back-up around the league.
With the 253rd pick in the 2005 NFL Draft, the Tampa Bay Buccaneers select J.R. Russell, WR, Louisville.
With the 2005 NFL Draft near finished, Tampa Bay got a decent WR in J.R. Russell. He was quick and shifty but didn't have any speed past the ten yard marker. Although he never got to play a down in the NFL, he was the best WR taken by the Buccaneers in this draft.
Between these players, there were multiple people who coincided with our needs that could've been picked. After Razzano, DT Jay Ratliff was chosen.  He was undersized at 292 pounds but could run fast and have the best agility numbers out of all the DT's taken in the draft. I don't know how so many people decided not to choose him. After Warren, Matt Cassel was taken. I know you can't base a QB off his number so I won't even try. After Abdullah, there were a few players taken like Jonathan Fanene, Will Whitticker, who was mentioned earlier, and Ryan Fitzpatrick.
Notable 7th Round Picks: DT Jay Ratliff, DT Kevin Vickerson, QB Matt Cassell, QB Ryan Fitzpatrick, and OG Will Whitticker.
Notable UDFAs: FB John Kuhn, FB Leonard Weaver, RB Ryan Grant, WR Lance Moore, WR Nate Washington, T Erik Pears, T Harvey Dahl, G Dan Connelly, DE Cameron Wake, CB Brandon Browner, FS Jim Leonhard, SS Atari Bigby, LS Andrew Economos, K Abram Elam, K Robbie Gould, and K Shaun Suisham
Conclusion
Overall, the Tampa Bay Buccaneers took the most draft selections they had in recent years and threw them down the drain. What I noticed this draft is that film is important, an over-infatuation with a specific player may ruin your whole draft. I was able to pull Career Data from NCAA.org and see how a player performed better than a pick chosen by Bruce Allen. In the end, Allen filled a lot of the Tampa Bay Buccaneers' holes but lost the future of the team.