Last year, I did a series of FanPosts that discussed the 2004-2013 Tampa Bay Buccaneer's drafts. This past season, I have been gathering more informative data, sorting through that data, and now I get to apply said data as I am the new writer(read: Glorified FanPost author) for Bucs Nation. I will provide more insight on the choices of current and past General Manager's and the other options that could have been drafted in this series. And hopefully I will be able to apply it towards the upcoming NFL Combine, individual players' Pro Days, and the NFL Draft. Shall we being?
In the 2003 offseason, the Tampa Bay Buccaneers were coming off of a 7-9 record when many people were expecting them to be better. The 2003 season ended with the Buccaneer's defense ranking 4th in the NFL but allowed at least 30 points in the last two games, which were both losses. However those losses were due to the offense, led by QB Brad Johnson. He threw seven interceptions the last two games. In the end, the season was lost due to Johnson's inability to be anything but a game manager, the running game's lack of power near the end zone, the Bucs were second in the league with 1104 penalty yards, and Martin Gramatica only made 61.5% of his field goals.
The thing that was great about the Buccaneers was the defense. The only thing new general manager Bruce Allen had to do was resign the defensive free agents and rebuild the offense while dealing with being close to the NFL salary cap. Couldn't be too hard right?
Many of you know what happened next. Bruce Allen didn't even negotiate with Warren Sapp on a new contract. He released John Lynch due to possible injury problems and not being in the Buccaneers' future plans. He traded Keyshawn Johnson due to character issues for Joey Galloway. And he traded Keenan McCardell due to wanting a pay increase. Then, Bruce Allen went out and signed three starters in tackle Todd Steussie, tackle Derrick Deese, and RB Charlie Gardner to start the offensive rebuild.
1
st

Round

With the additions to the team in free agency, the Buccaneers had holes at QB, WR, DT, and SLB. At pick #15, Allen didn't have a chance at snagging one of the top 3 QB prospects in the NFL Draft. Many mock drafts had us picking Randy Starks, Vince Wilfork, or Steven Jackson. I wish they were true.

With the 15th pick in the 2004 NFL Draft, the Tampa Bay Buccaneers select: Michael Clayton, WR, LSU.

When this draft happened, I was 12. Of course I was happy to get a starting WR. But when I look back on it, I laugh at how wrong I was.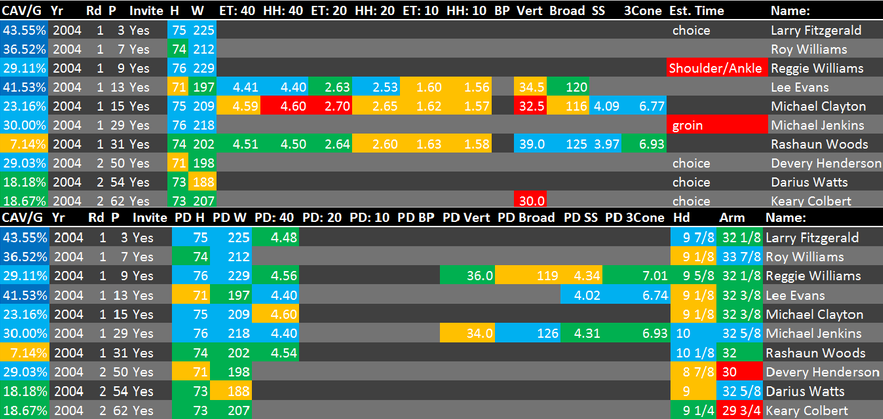 From the data I have from 1999-2004, Michael Clayton was tied with Sylvester Morris as the slowest WR to be drafted in the 1st round by electronic timing. His 40 time was beat by QB Marcus Mariota in every aspect. He didn't show explosiveness in either his vertical or broad jumps but he made up for it in his short shuttle and three cone tests. In essence, he was a possession WR who couldn't jump.
From his output in college, he produced fairly well. But when you compare it to other WRs drafted in the 1st round, his production looks terrible. His 14.2 yards per catch combined with his 66.21 yards per game makes him one of the worst WRs to be drafted in the first two rounds per production.
Other options before next pick: RB Steven Jackson, DT Vince Wilfork, WR Mike Jenkins, and DT Marcus Tubbs
2nd Round
With the 45th pick in the 2004 NFL Draft, the Oakland Raiders select Jake Grove, C, Virginia Tech.
If you are wondering why the Raiders showed up on a Buccaneers draft review is because this is the last pick given to the Raiders by the Jon Gruden trade. In the end, Oakland chose a great center that played for them until 2009. The Buccaneers got Jon Gruden but missed out on: DT Tank Johnson, DT Darnell Dockett, or DT Randy Starks. All of which showed promise per their combine test scores.
3rd Round
With the 3rd round underway, players like DT Darnell Docket and C Nick Hardwick were taken and became dominant players in the NFL. As for the Buccaneers, they decided to stick with filling in holes. Which brings us to the next pick.
With the 79th pick in the 2004 NFL Draft, the Tampa Bay Buccaneers select Marquis Cooper, OLB, Washington.

Based on his combine data, he showed extremely well as an outside linebacker, he was one of the fastest and most explosive OLB at the combine but also one of the lightest. There were other options like Landon Johnson, Demorrio Williams, and Leon Joe per their NFL Combine scores.

And the NCAA didn't record any useful information until 2005 like tackles or sacks. So while Cooper's production seems to be good based on his interceptions and fumble recoveries, I can't give a good reason of what Bruce Allen saw in terms of stats.
Other options before next pick: QB Matt Schaub, DT Anthony Hargrove, DT Isaac Sopoaga, QB Luke McCown, OLB Landon Johnson, OLB Demorrio Williams, and WR Jerricho Cotchery
4th Round
By the end of the third round, the Buccaneers had twice picked to fill holes that were created over the past two years due to not resigning a free agent or releasing veterans. The 4th round is no different.
With the 111th pick in the 2004 NFL Draft, the Tampa Bay Buccaneers select Will Allen, FS, Ohio State.
While Will Allen did not work out at the NFL Combine by choice, he did work out for teams on Ohio State's Pro Day. As you can see, most of his numbers were below average to average. Jason Shivers and Tony Bua performed well overall but Erik Coleman (10 Yd Split) had some questions.

Per his NCAA career, Allen put up decent numbers with 5 INT's but again, not much information is available on Defense playing NCAA players until 2005. But strictly off of the data, there were other options like Coleman, Shivers, or Bua.
Other options before next pick: OLB Leon Joe, FS Erik Coleman
5th Round
While players like DE Jared Allen, SS Gibril Wilson, and CB Jason David slipped through the cracks due to small school, size, or injury issues, Bruce Allen kept chugging along on the crazy train. Seriously, how could they ignore guys with 14 INTs (David) or 71 TFLs (Allen)?!
With the 146th pick in the 2004 NFL Draft, the Tampa Bay Buccaneers select Jeb Terry, OG, North Carolina.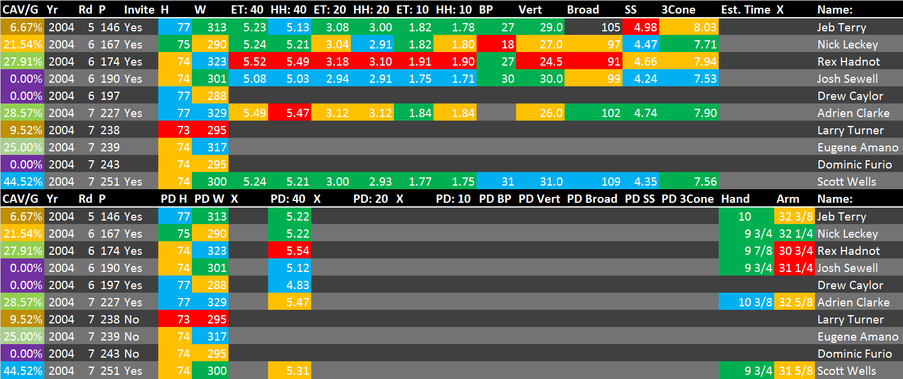 Jeb Terry's combine was well average. He showed a little burst getting off the start but his agility skills were lacking. That meant that in a power scheme, which the Buccaneers ran, he would be a terrible pulling guard. Because the NCAA doesn't keep track of offensive line players, I can only base my opinion on the Combine data. However, there were two other options if they needed an inside lineman based on the Combine data: Josh Sewell (0 GP) and Scott Wells (146 GP).
Other options before next pick: WR D.J. Hackett, DT Corey Williams
6th Round
Even in the 5th to 6th round, there were players to be had. RB Michael Turner was one of the biggest RBs in the draft and produced some of the best RB Combine numbers. CB Von Hutching's 11 INTs slipped by too, due to lower than expected explosiveness. But in the end, the Buccaneers drafted one of the smartest players in the draft.
With the 181st pick in the 2004 NFL Draft, the Tampa Bay Buccaneers select Nate Lawrie, TE, Yale.
Nate Lawrie wasn't invited to the NFL Combine but on his Pro Day, he put up numbers that rivaled Kellen Winslow Jr. except in one aspect. He was as slow as a grandma with a cane. It didn't help that his blocking technique was limited at best. And coming from Yale, I don't have much information for his receiving stats other than he caught 72 receptions in his senior year, 42 in his junior year, and played a little offensive line.
Other options before next pick: QB Jim Sorgi, TE Jeff Dugan
7th Round
Most 7th round players barely make it onto roster by the end of the pre-season. The few that make it that far, don't last for their rookie contract. However, Punter Andy Lee and FB Troy Fleming both played well in their positions to become good players. But then, there are Bruce Allen's Buccaneers.
With the 206th pick in the 2004 NFL Draft, the Tampa Bay Buccaneers select Mark Jones, WR, Tennessee.
He was short, light, and ran like the wind. But in his NCAA Career, his Kicking Return Average was 3 yards shorter than all drafted players with over 30 Kicks Returned in college.
With the 228th pick in the 2004 NFL Draft, the Tampa Bay Buccaneers select Casey Cramer, FB, Dartmouth.
Who is this guy?! I have no data on him. All I know is he played the TE/FB role for Dartmouth.
With the 252nd pick in the 2004 NFL Draft, the Tampa Bay Buccaneers select Lenny Williams, CB, Southern.
(See Casey Cramer)
Notable 7th Round Picks: WR Patrick Crayton, OT Shane Olivea, DE Bobby McCray, and C Scott Wells
Notable UDFAs: FB Vonta Leach, WR Wes Welker, OT Jason Peters, OT Tyson Clabo, CB Jabari Greer, DE/DT Tommy Kelly, CB Benny Sapp, CB Randall Gay
Each had their own flaws but DE/DT Tommy Kelly and OT Jason Peters both performed well. For being 336 pounds, Peter ran the fastest time per pound in all three categories. And while Kelly was tall, he had speed and quickness to be a 3-4 DE, which he would go on to play in the NFL.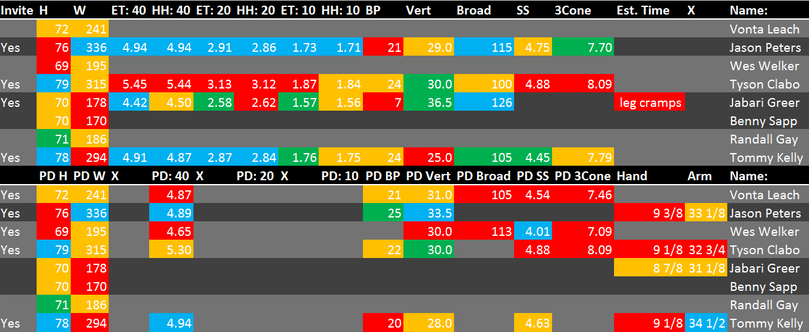 Conclusion
Many will look at this article and think that the Buccaneers could have done better. And while that may be true, we will never know. Michael Clayton was drafted to be the #1 WR but I couldn't see it. Marquis Cooper looked to be a well diverse OLB, but he didn't have the instincts to start in an NFL game. And while Bruce Allen's best choice was in the 4th round, there were countless others who were missed before and after. Bruce Allen drafted for need in the 2004 NFL Draft and it showed with no draft choice lasting longer than six years with the Buccaneers.
Color Coding for NFL Combine/Pro Day:
Special thanks to CBSSports.com and Pro-Football-Reference.com.