For those stat lovers like myself, we love to dig deep into number and hope we don't get lost. Well, with the NFL Combine coming up on Tuesday, I thought I would help everyone out. Over the past season, I have been digging into old NFL Combine data hoping to broaden my knowledge. Now with over 20,000 players, maybe I could help you.
When I watch the NFL Combine, I think of the players that depend on this moment. They need a 4.4 40 yard dash or to not injure themselves. Well I am here to tell you, not exactly. I've gone over the numbers from 1998-2015 of most players who have participated in the NFL Combine and these are the averages for each listed NCAA position.
If that looks like a bunch of numbers, it's about to get worst.
To come up with the following numbers, I took the standard deviation of all the players I have and found the % change versus the standard deviation for all drafted players in that position. In people terms, I wanted to see how much scouts focused on one test versus another for each position. This is what I have come up with.
While it looks like a bunch of hoopla, it's very telling. Many GMs are strict about height for OG and Center (Prefer: shorter) while many are lenient with the height of a TE. What I was surprised to see was a massive importance on SS's Arm and Wingspan lengths.
On the flip side, the NFL Combine only gets roughly 300 invitees per year. The NCAA Pro Days may paint a better picture.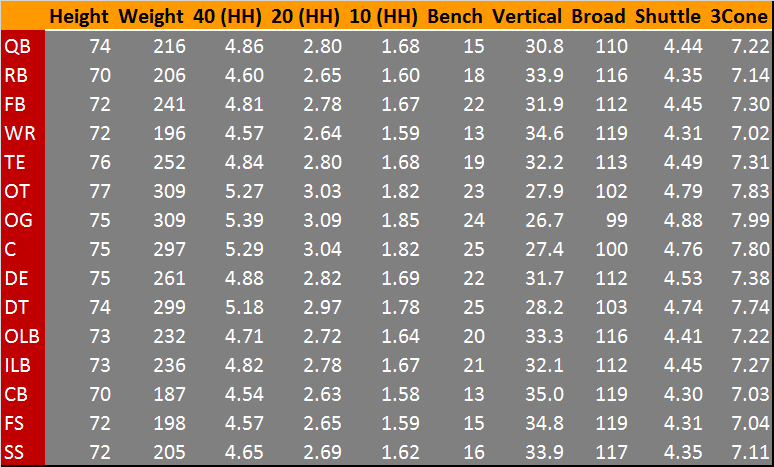 If you compare the NFL Combine averages to NCAA Pro Day averages, you'll see that the Combine doesn't always pick the most athletic people to perform. On the other hand, the Combine might choose the more productive players.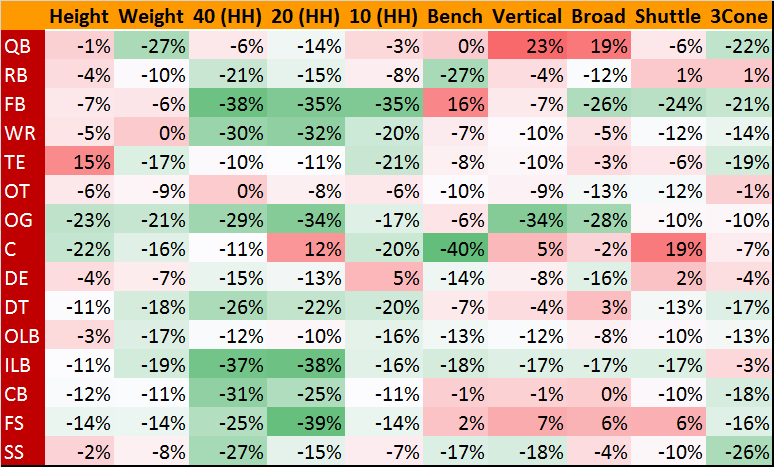 As you can see, scouts put a big importance on speed drills compared to jumping drills. For FS and ILB, they want to see if they have closing speed (20 HH). For center, they must be strong. And for OG, they need to be explosive (Vertical/Broad).
What I have gone over won't tell you exactly which player will be successful or not. But it will give you an idea as to who you may want to put onto your mock draft and eventually, which player you'd want your team to choose.
Part I: Offense
Part II: Defense