The Tampa Bay Buccaneers did not start the Lovie Smith era on a high note. With a new quarterback, a new coach, a new offense and new uniforms, the Bucs didn't look at all refreshed. Instead, they got embarrassed in their own home by a Carolina Panthers team that was forced to start Derek Anderson at quarterback, as Cam Newton was sidelined with a rib injury.
The Bucs tried to claw back into the game at the end of the fourth quarter, scoring two touchdowns in the final eight minutes, but it wasn't enough. Bobby Rainey lost the ball on what was supposed to be the game-winning drive -- and the Panthers extend their their lead to 20-14.
The new defense that was supposed to harass the quarterback and force turnovers was nowhere to be seen. The new offense that was supposed to manage the game turned into a turnover machine that couldn't move the ball. It was an ugly disaster of a game.
Until the middle of the fourth quarter, that is. That's when the Bucs finally woke up and decided to score some points, and start to harass the quarterback. But it was too little too late.
Tight end Greg Olsen dominated the Bucs, racking up 83 yards and a touchdown on 8 catches. Derek Anderson looked like the second coming of Joe Montana, managing 24 completions on 34 attempts for 230 yards and two touchdowns.The Bucs' defensive line helped them out a little by failing to get any kind of pressure throughout the game.
Meanwhile, Josh McCown looked like what we expected out of Derek Anderson: horrible turnovers, inefficiency, bad misses, all exacerbated by a bad offensive line and no running game to speak of. Doug Martin managed just nine rushing yards on nine yards.McCown managed 22 completions on 35 attempts for 183 yards, two touchdowns and two interceptions.
First quarter: Mediocre beginnings
The Tampa Bay Buccaneers started off well on defense, forcing a three-and-out on the first drive, while forcing a punt on the second drive. No individual players really stood out, and the Bucs' pass rush was a little weak, but they didn't give up any play.
The offense was a little more up-and-down, though. A good throw  to Austin Seferian-Jenkins and a big, 54-yard run by fullback (!) Jorvorskie Lane were negated by a terrible Josh McCown interception at midfield.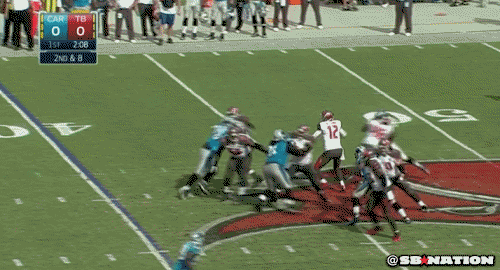 Second quarter: disaster
That Josh McCown interception led to a long, long Derek Anderson drive straight into Tampa Bay territory -- and ending with a five-yard touchdown pass to Greg Olsen. From Derek Anderson. In case you'd missed that. That's not very good. The key issue on defense was pretty simple: a lack of pass-rush. Gerald McCoy was consistently double- and triple-teamed, and no one else stood up to help him out.
Meanwhile, the offense struggled to do anything. At the half, the Bucs had 84 total offensive yards, all but four of those yards came on just two plays. Josh McCown had completed 3 of 8 passes for 36 yards. Doug Martin had 3 rushing yards. Nothing was happening, and the Bucs even went down 10-0 as Anderson marched down the field on a two-minute drill.
Third quarter: What is happening?

The second half seemed to start off slightly better, with three consecutive first downs. Josh McCown was actually moving the ball down the field! Except, another pair of bad plays led to another punt. And on the very next drive, after a very long but stifled Panthers drive, Josh McCown decided to throw his second absolutely horrible interception of the game.
And then Doug Martin went to the sidelines with a knee injury, and Johnthan Banks was evaluated for a head injury. Doug Martin later returned to the field. Oh joy.
Fourth quarter
Until now, the Bucs' defense hadn't really failed. It hadn't looked good, but it wasn't bad. Mike Jenkins decided that wasn't adequate, though. No, he had to hold Kelvin Benjamin all the way down the field, not turn around in the endzone, and allow Benjamin to catch a ball despite interfering with the wideout throughout the play.
.@KBREDZONE: SKRONG https://t.co/iOtFpBS5QH

— TDdaily (@TDdaily) September 7, 2014
Oh, and Lovie Smith decided that being down 17-0 isn't good enough to go for it on fourth-and-one in the fourth quarter. But we knew that would happen with Lovie Smith.
Still, the Bucs did try to rally the troops late in the fourth quarter. Josh McCown marched the Bucs down the field and threw a 19-yard touchdown to Chris Owusu with 7:30 remaining in the game. Gerald McCoy got his first sack of the game to force a punt, and Solomon Patton gave the Bucs a fighting chance with a 33-yard punt return. McCown ultimately converted that to another touchdown, throwing to Bobby Rainey.
But it just wasn't enough, and it wasn't soon enough. Even forcing another three-and-out and nearly getting an interception, dropped by Dashon Goldson, wasn't good enough: Bobby Rainey lost the game by losing a fumble on what looked like a final comeback drive. Instead, the Panthers recovered the fumble, kicked a field goal and sealed the game. The final, 17-second Josh McCown drive was completely pointless.
Injuries
Logan Mankins injured his left knee in the second quarter and was ruled out for the game.
Doug Martin suffered a knee injury, but returned to the game.
Johnthan Banks suffered a head injury, but returned to the game.
Mike Jenkins suffered a shoulder injury in the fourth quarter and did not return to the game.