Josh McCown joined TJ Rives on the Buccaneers Radio Network yesterday to talk about the Panthers game, and he talked about the two interceptions he threw in the game. Those two interceptions were disastrous, of course. I mean really, really ugly.
"Because I got it back so quickly," McCow said, "I grabbed it and I thought I can throw this over Mike [Evans]' head to the sideline, no harm no foul, and we'll huddle back up instead of losing five yards."
So at least this wasn't a horrible decision. Instead, Josh McCown forgot how to throw a ball. Twice. In one play.
Wait, that doesn't make this sound any better at all!
'At least' the other interception wasn't the result of an inability to throw a ball, but instead a dumb decision.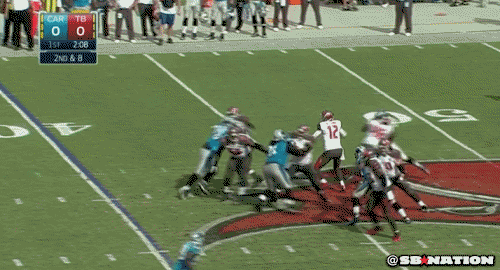 "I stepped up and I scrambled and Austin [Seferian-Jenkins] started breaking away and I thought he had a step on [..] Kuechly, and I was being pulled down and tried to pop a ball up over his shoulder to let him go up and get it. Just ill-advised, it wasn't good."
McCown did improve at the end of the game when the Bucs went down the field and scored touchdowns on subsequent drives. They did a good job there. And if McCown can get that form back, he should be fine. But if he keeps throwing stupid interceptions on plays like that, the Bucs are doomed -- and he'll have to be benched at some point.