I tried to takes notes as best I could while taking pics so I may have missed some stuff. In 11 on 11 for First team defense they were in dime and the secondary consisted of SS
Mark Barron
, FS
Dashon Goldson
, CB
Leonard Johnson
, CB Rashaan Melvin, CB
Danny Gorrer
and S
Ahmad Black
. This was after CB Derrelle Revis went out to work with trainers. Rookie CB Jonhathan Banks was held out of practice due to a minor injury and is expected to recover quickly. Starting on Offense in place of WR
Vincent Jackson
, whose wife had a baby boy, was WR
Chris Owusu
and opposite him were rotational WR in place of WR Mike Williams. I'm told Williams wanted to practice but was help out also due to minor injury. The starting offensive line was as expected from the recent roster release and QB
Josh Freeman
was at the helm with RB
Doug Martin
behind him. The thing was if the offense scored then the defense had to do pushups and if the defense stopped the offense then it was the offenses turn. It was about even as both units played well. And here are the highlights:
• CB Rashaan Melvin almost picked off QB Josh Freeman; he made a great play on the ball which was well thrown.
• FS Dashon Goldson thumped RB Doug Martin who kept going for a positive gain.
• QB Josh Freeman connected deep to WR Chris Owusu for a touchdown.
• C
Jeremy Zuttah
had a high snap that went over QB Josh Freemans head.
• QB Josh Freeman hits RB Doug Martin in the flats for a TD to end 1st teams time.
• With the second team in QB
Mike Glennon
had nowhere to throw and ran it for a first down.
• QB Mike Glennon fires a laser to WR
Eric Page
in a tight window for a first down.
• CB
Anthony Gaitor
hit WR Eric Page hard for a stop near the line of scrimmage and was called for a penalty which was determined was a clean hit. And a damn good one I might add.
• QB Mike Glennon hits WR Eric Page for 20+ yards
• QB Mike Glennon throws to WR Eric Page again this time for a nice throw and a great catch on the sidelines for a first down.
• CB
Branden Smith
picked off QB Mike Glennon ending 2nd teams time.
• With the 1st team back in QB Josh Freeman overthrew WR David Douglas.
• WR Chris Owusu saved QB Josh Freeman from an interception with an acrobatic catch after a tipped ball; he also later saved Free on an underthrown ball making a diving catch.
• QB Josh Freeman threw a nice touchdown strike to WR David Douglas
• DE Da'Quan Bowers made a nice play shedding his blocker and getting to the flats quickly to get RB Doug Martin for a short gain.
• LB
Mason Foster
picked off QB Josh Freeman on what looked like a tipped ball from DT Akeem Spence.
• QB Josh Freeman fires one to WR
Derek Hagan
for a touchdown in coverage through a seemingly tiny window.
• QB Josh Freeman dropped a nice ball into the endzone behind coverage for a touchdown to WR Chris Owusu, who flat out balled out there today.
• QB Josh Freeman rifles a pass to WR
Kevin Ogletree
for a TD.
• DE Steven Means reacted well to a pass from QB Josh Freeman intended for open WR Chris Owusu and batted the ball away.
• FS Dashon Goldson sacked QB Josh Freeman for a loss on a cleverly disguised blitz.
All in all you can see some of standouts but most notably was WR Chris Owusu and CB Rashaan Melvin. They both made big plays and were serious contributors to their side of the balls success. While QB Josh Freeman was a little inconsistent he made some really nice throws as did QB Mike Glennon. Honorable mention for RB Michael James who made some splash plays on 2nd team getting some nice runs and WR Eric Page who made some good catches and playing to the ball thrown while dealing with good coverage also DE Stephen Means who played hard and fast.
When the individual position drills were going on there were some standouts and some surprises too. On special teams and the defensive line there were some notables:
• RB
Peyton Hillis
was rotating onto special teams as was RB
Michael Smith
and RB
Mike James
, the latter two returning punts along with WR Chris Owusu. • K
Derek Dimke
was Johnny on the spot with the kicks today, clearly a good candidate for starting role. • DE Stephen Means absolutely man-handled T
Donald Penn
on the individual drills and Means just was so fast that Penn lost leverage right away, although the next battle between them was clearly won by Penn.
All in all I can say that this years team is much better than last years and were are better on both sides of the ball as a result of some young guys coming in and contributing. I am getting really amped up for the season and I know Bucs Nation is too. Go Bucs!!! And here are some pics for you: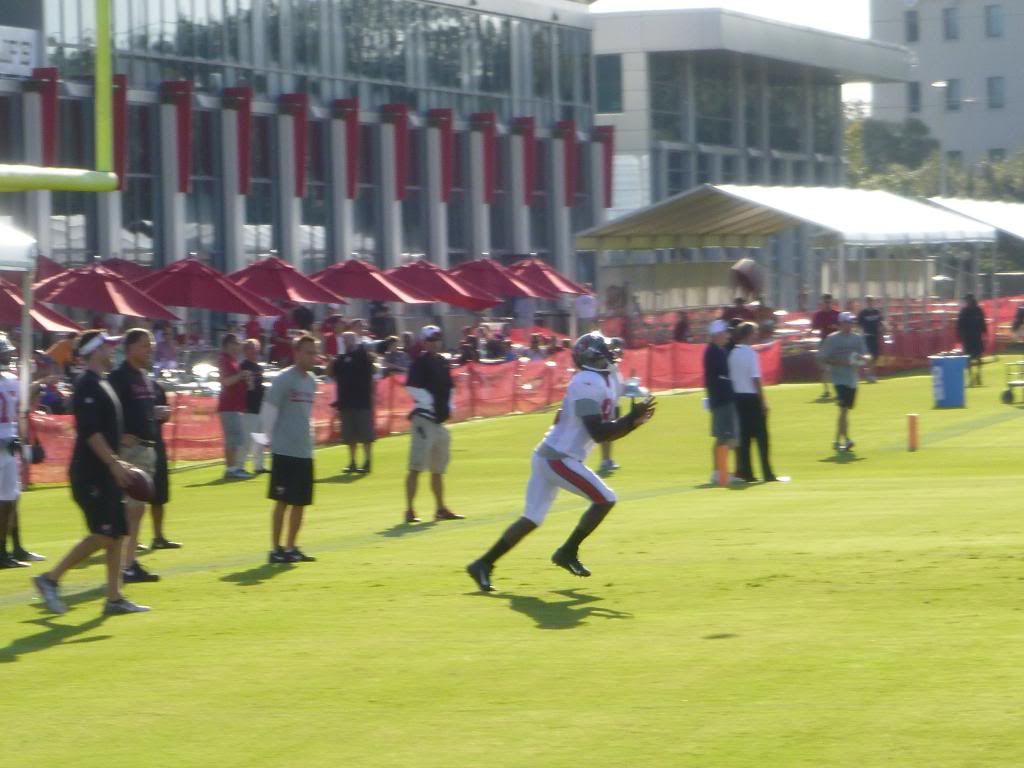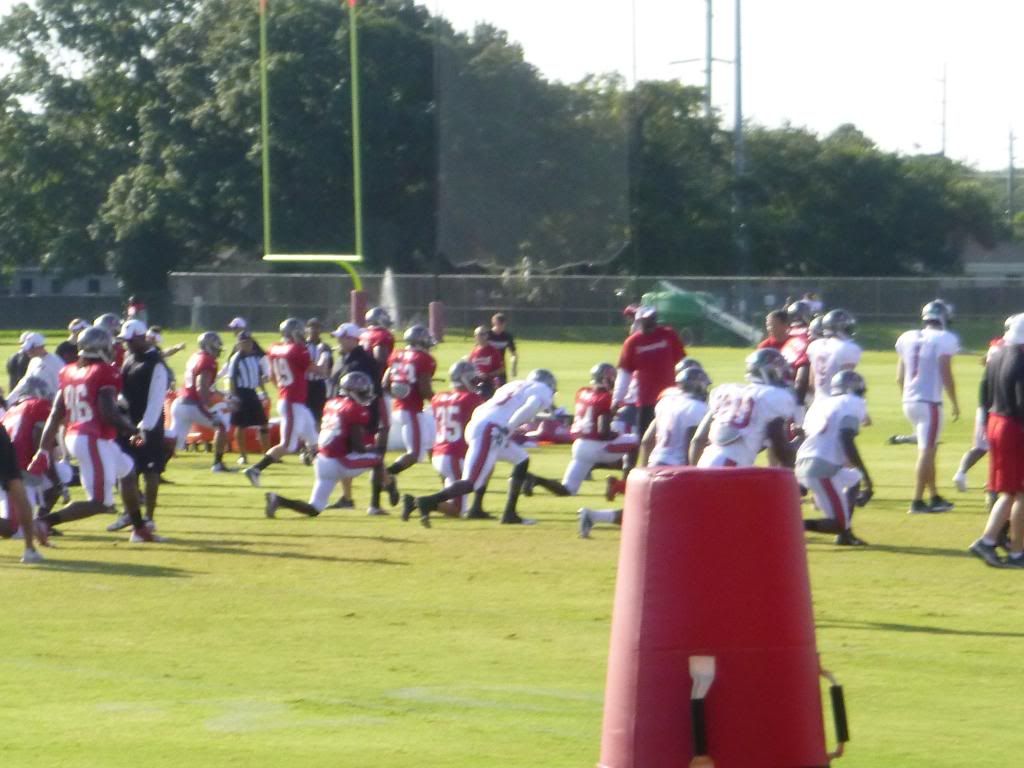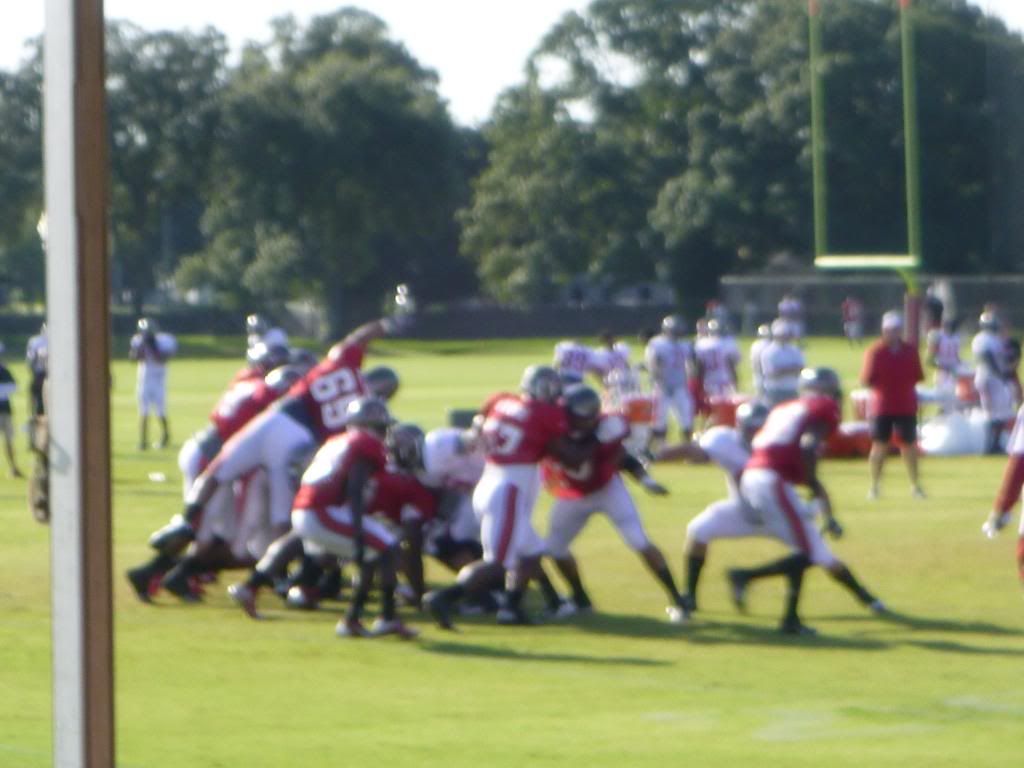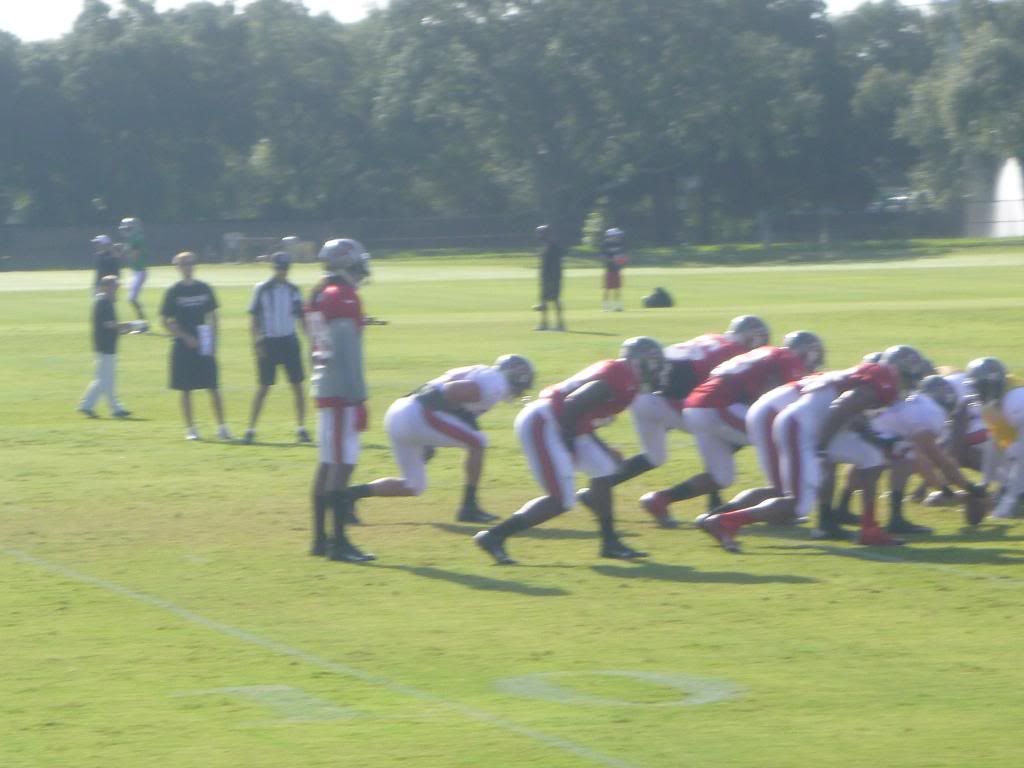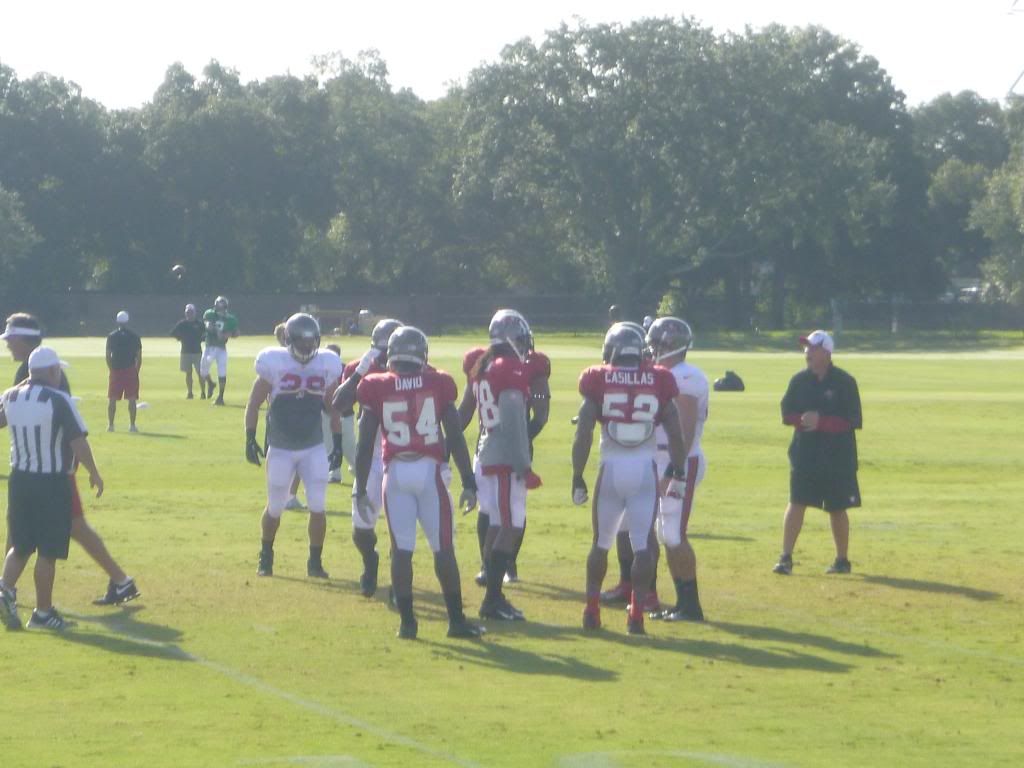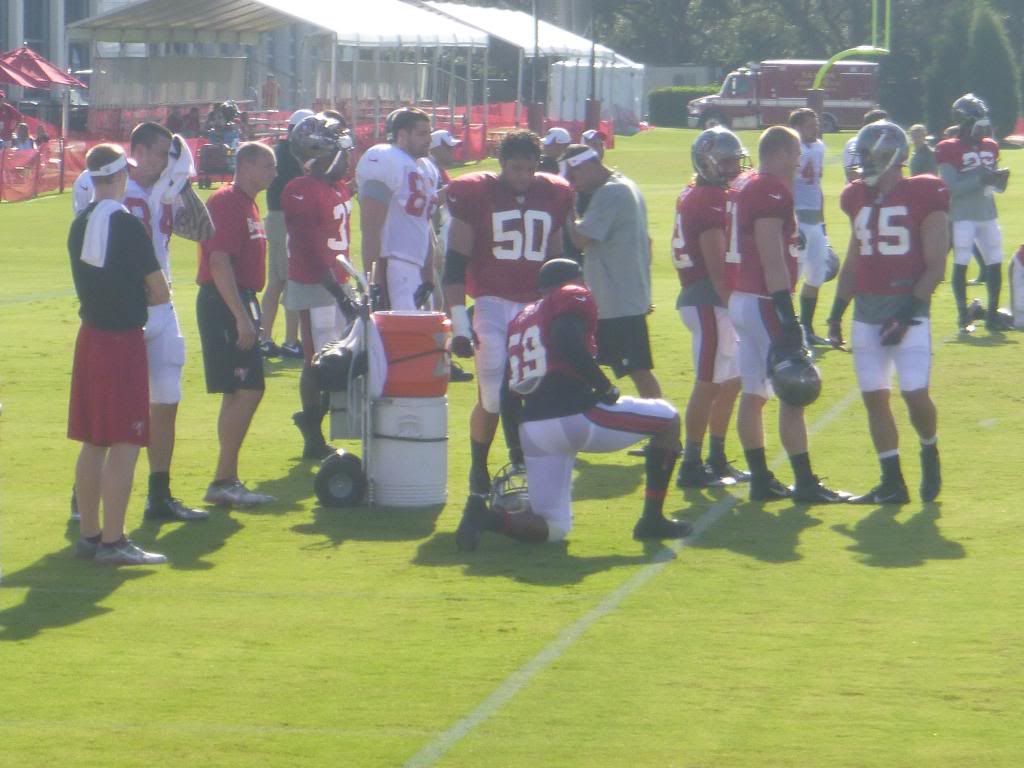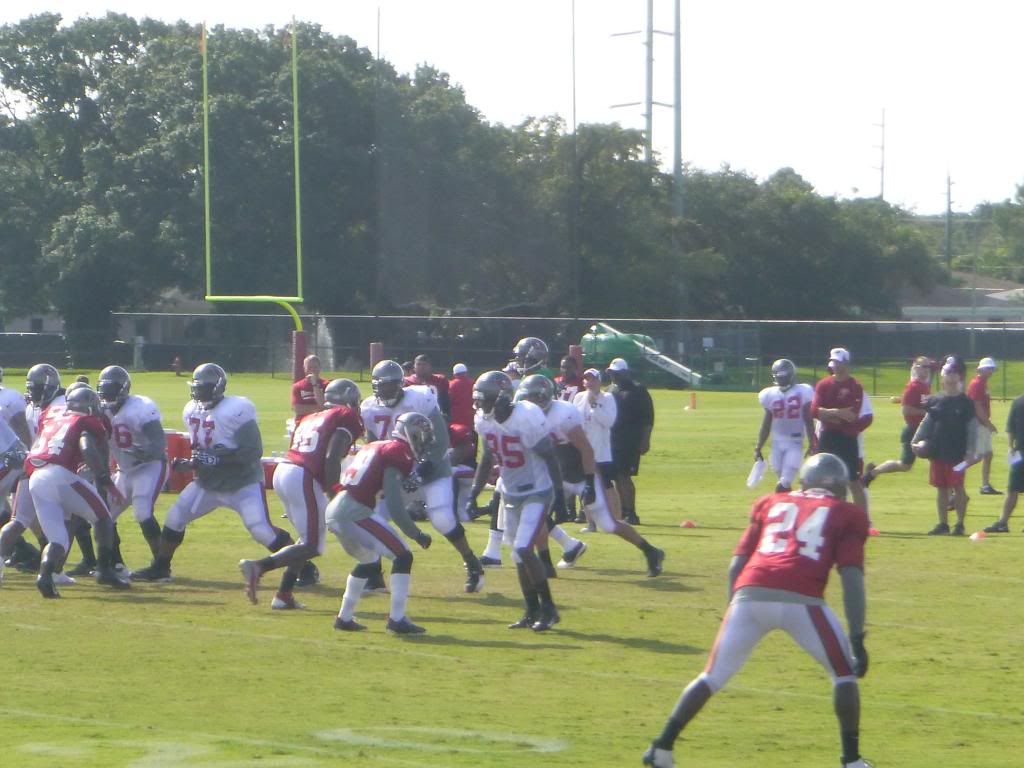 Finally got LB Lavonte David signature: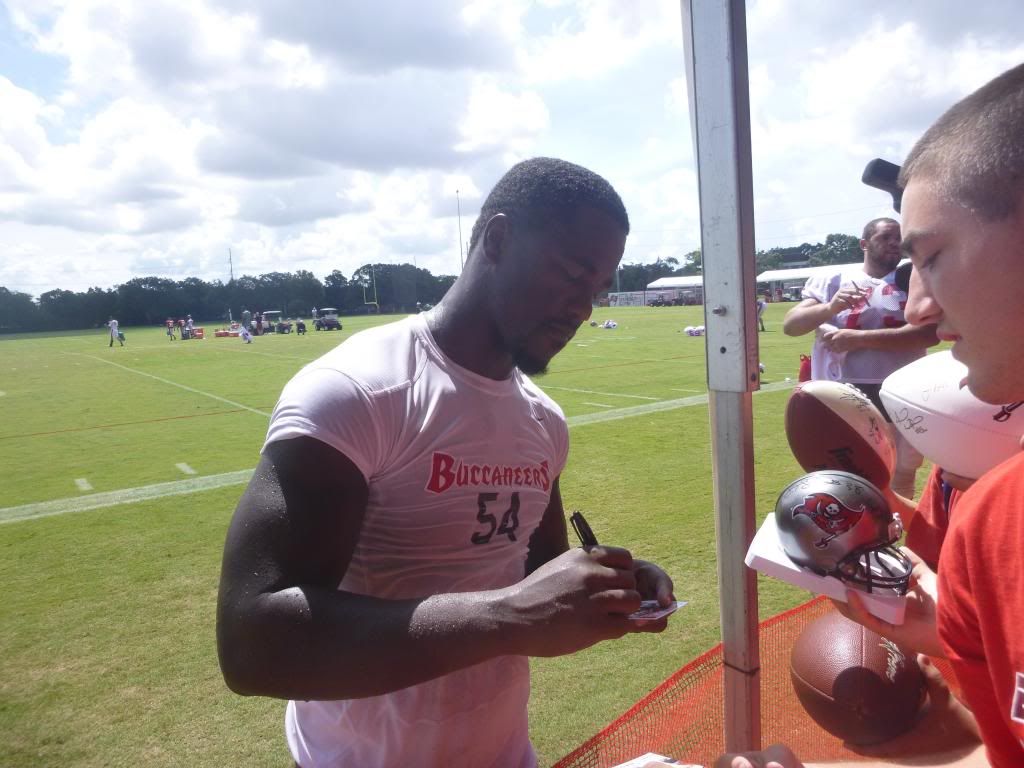 Head Coach Greg Schiano: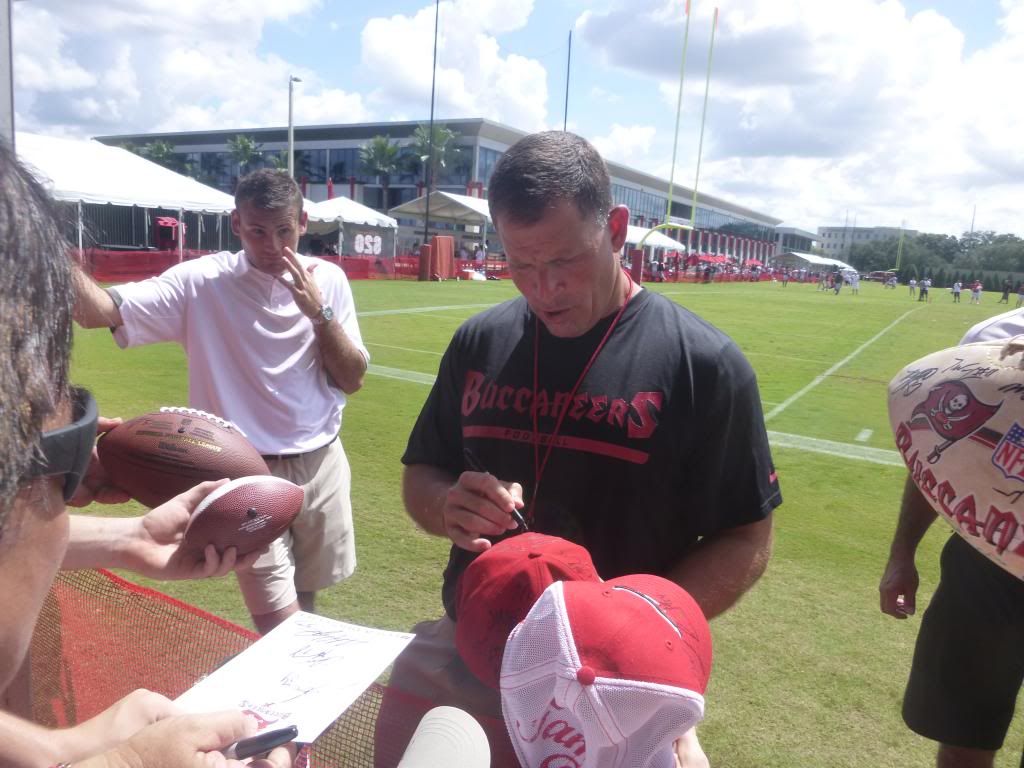 WR Kevin Ogletree: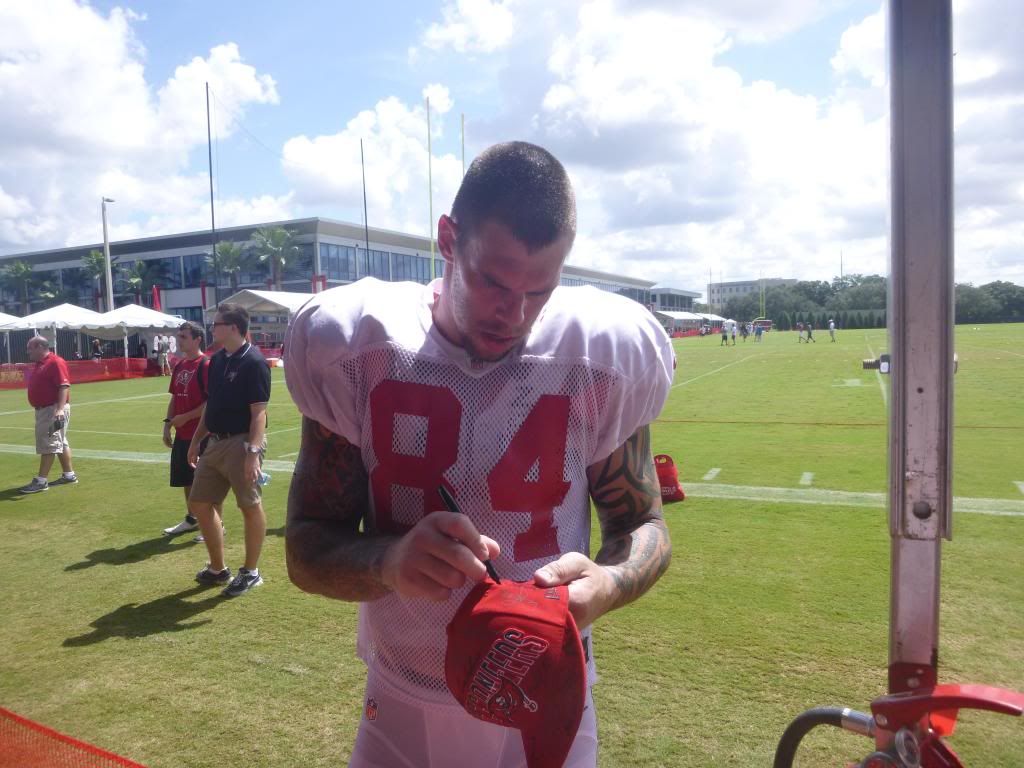 TE
Danny Noble
: