Training camp was interesting, especially since a lot of players are trying to make the final 53 man roster. They are fighting to stand out in camp and of course preseason games like the one against Tennessee on Friday. Here are some pics and some notes from camp from this fans perspective.
We have all heard of the camp champions, we know their names. We know who stood out in the preseason game against Miami and who did not perform so well. Today was that last day of training camp and we now move on to the first home game against the
Titans
. Well as many of have heard that
Tiquan Underwood
has been a shining star in camp, we he did not disappoint today either. He made several pretty stellar catches today and one particularly for 30+ yards against man CB and a safety over top. He beat them both and they weren't just average players, he beat the 1st team defense. It was against Talib and Asante. To the defenses credit he was well covered and the ball was thrown perfectly.
Vincent Jackson
had a not so good day, he dropped 3 and on the first one he got some claps for effort but fans quickly let him know his dropped balls were not going to be taken well by fans. He got shouts of "$55 million?" and many other jeers. I noticed he switched gloves from a black pair to a white pair and was quickly catching everything thrown at him. Also little known
Greg Ellingson
did pretty well today cathcing a few tough balls in good coverage. Mike Williams also dazzled today making some clutch cathces in traffic and tight spaces from both Free and Orlovsky. Gant caught a good ball thrown by Orlovsky. Also it looks as if first team receivers were Jackson, Williams, Underwood.
Blount was running with first team and did well in both protection schemes as well as running. He carried the ball once for about a 20 yard gain, the whole was so big you could have driven an epic sized truck through it. It's amazing to see our O-line out there, these guys are the real deal. It will also make our defensive line much better seeing as they're facing some of the best in the league.
The defense played well with some big plays from David, Gilberry, Goode, Tandy, Teo"neshiem and some others. David broke up a pass and was consistently in on running plays as the lead defender or right there in closing. Gilberry deflected a pass with quick hands and came up big. Goode had an interception return for a TD, Tandy had a great defensive pass block on Underwood and also came in to help on running downs. He was playing safety with 2nd teams.
It was also nice to see some of our injured players out there for support as I did not see them last time. Penn, Bowers and Benn most notably. Well without further ado here are the pics of camp: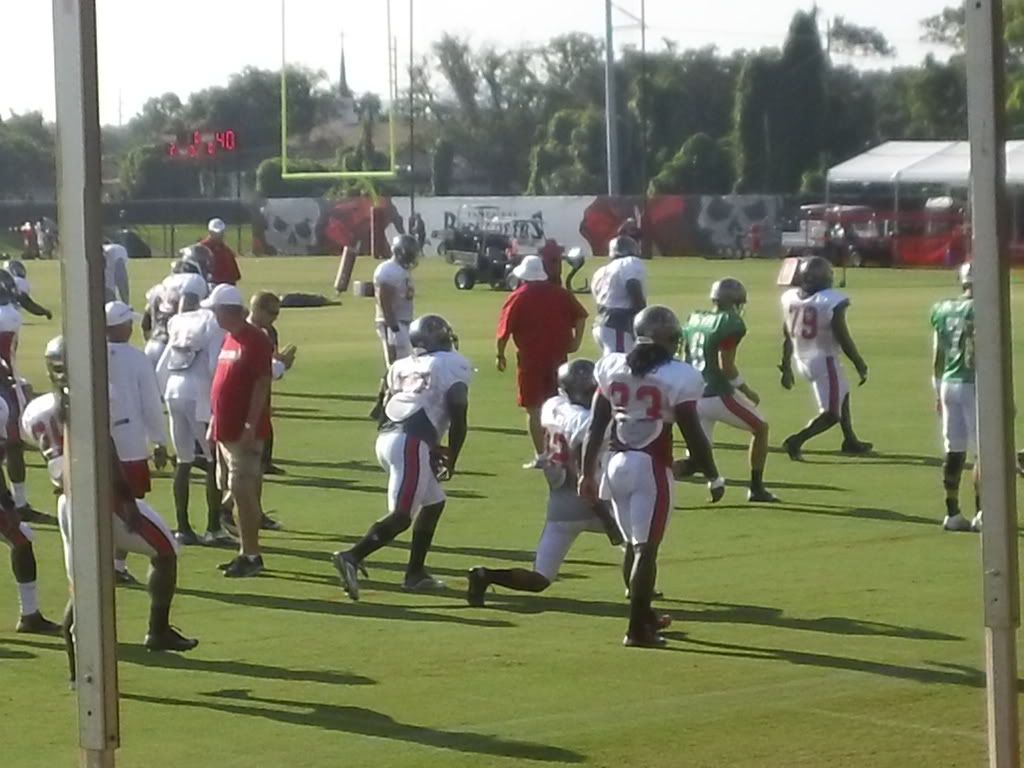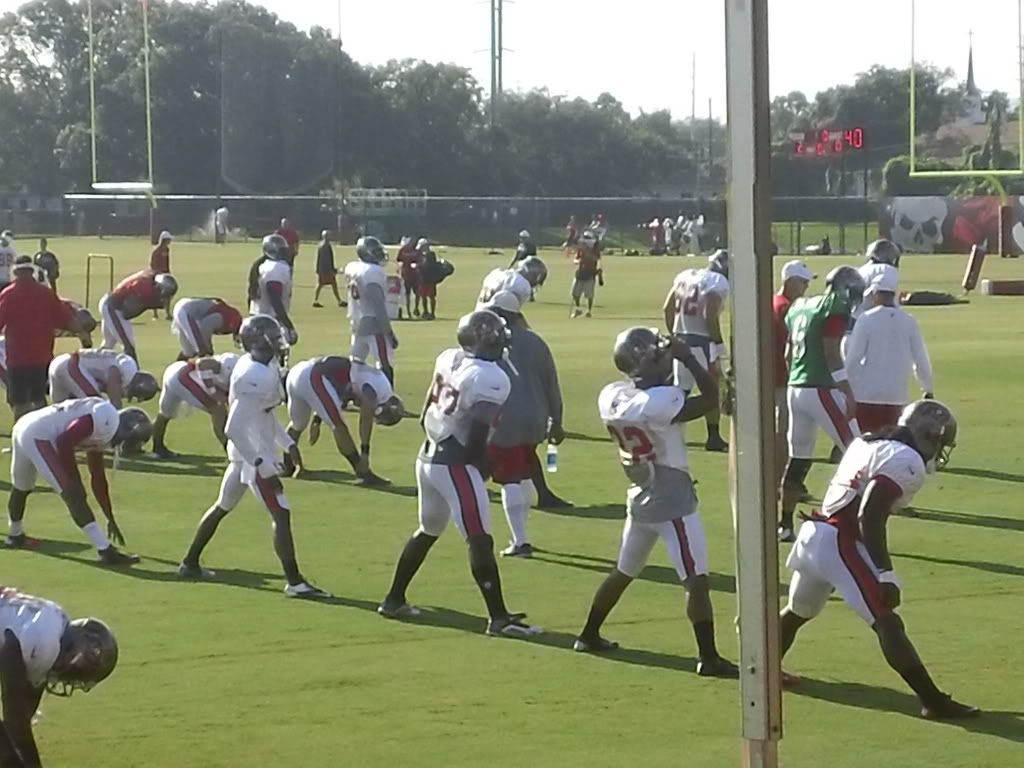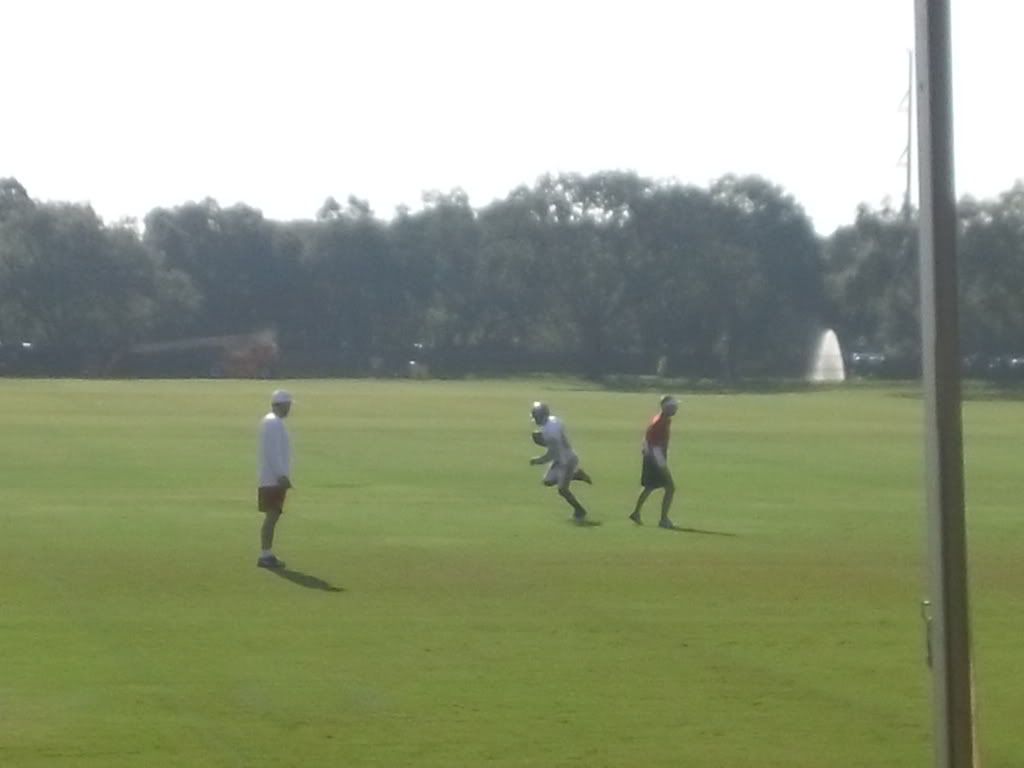 receivers working on some pre practice warm ups: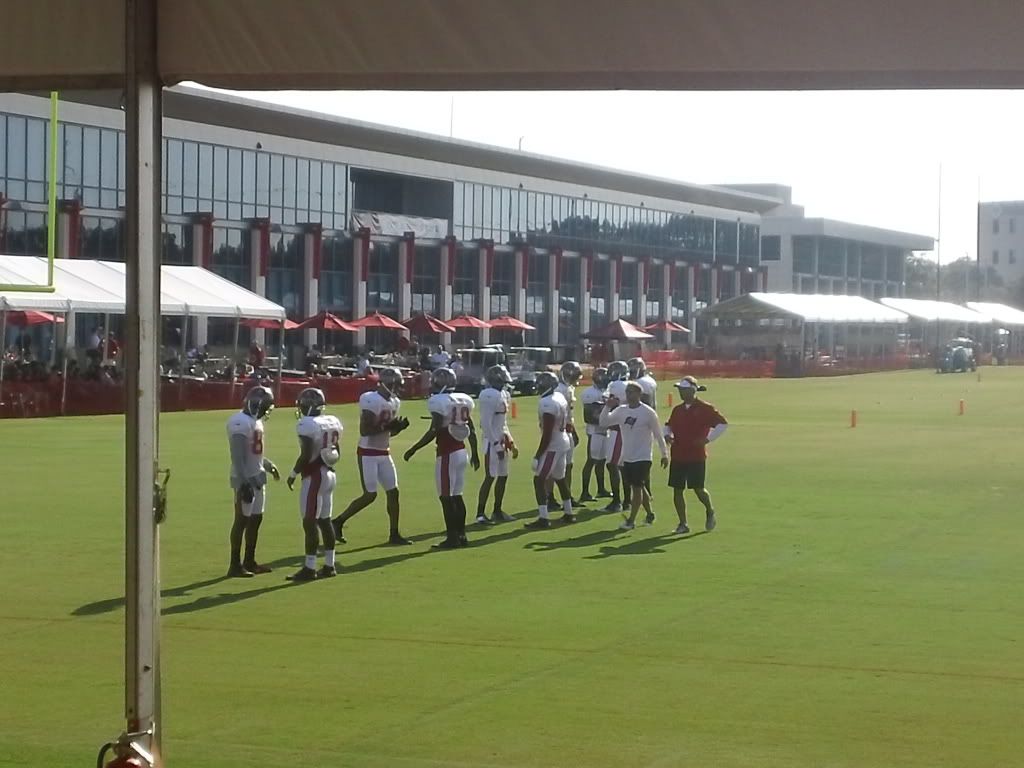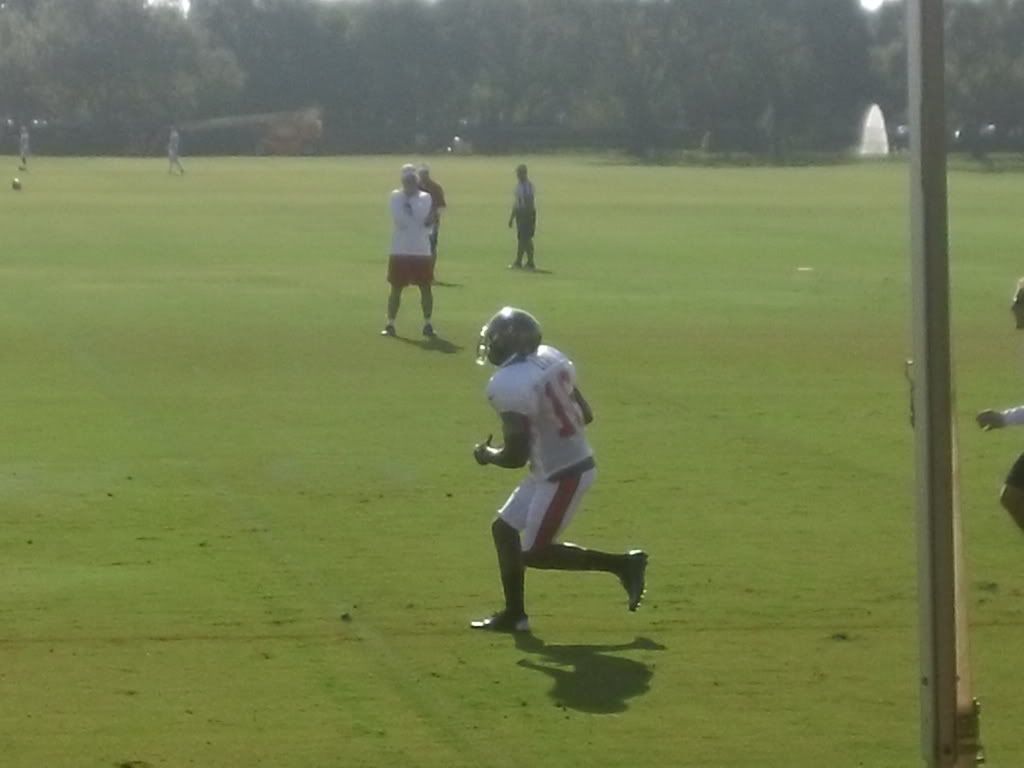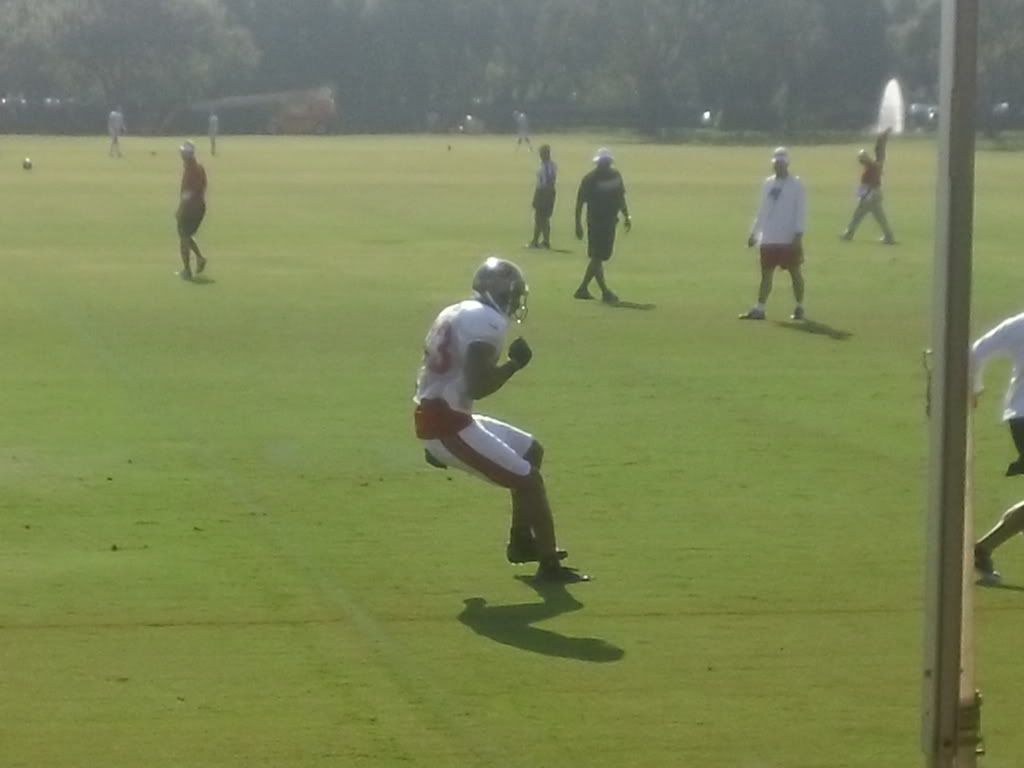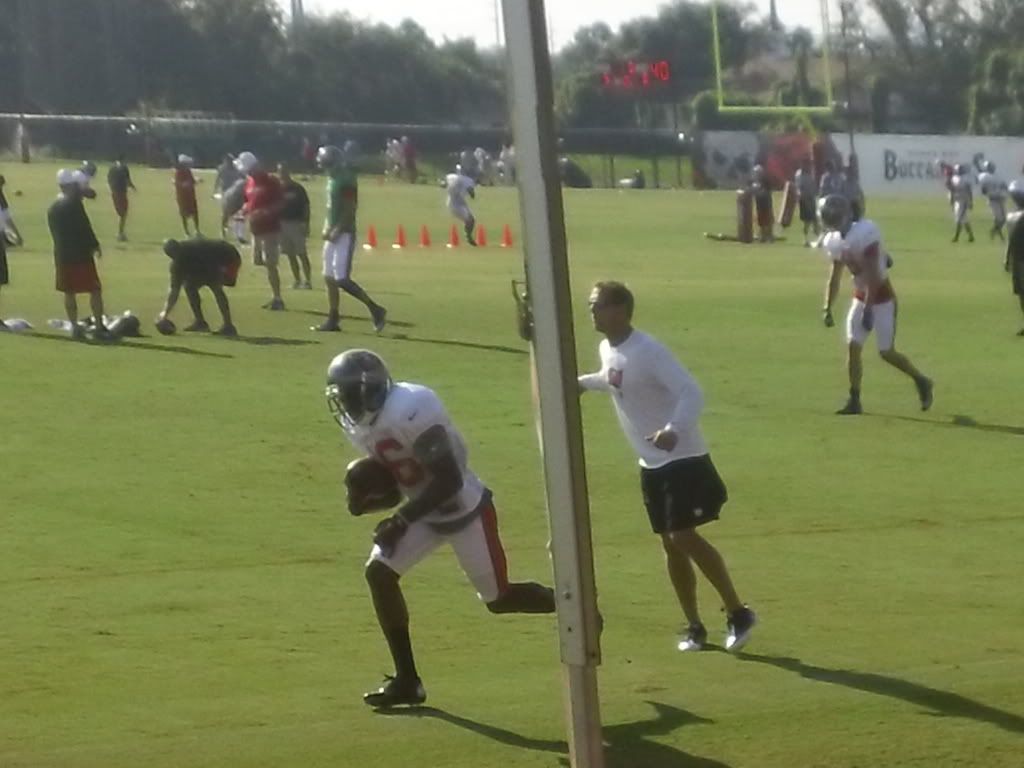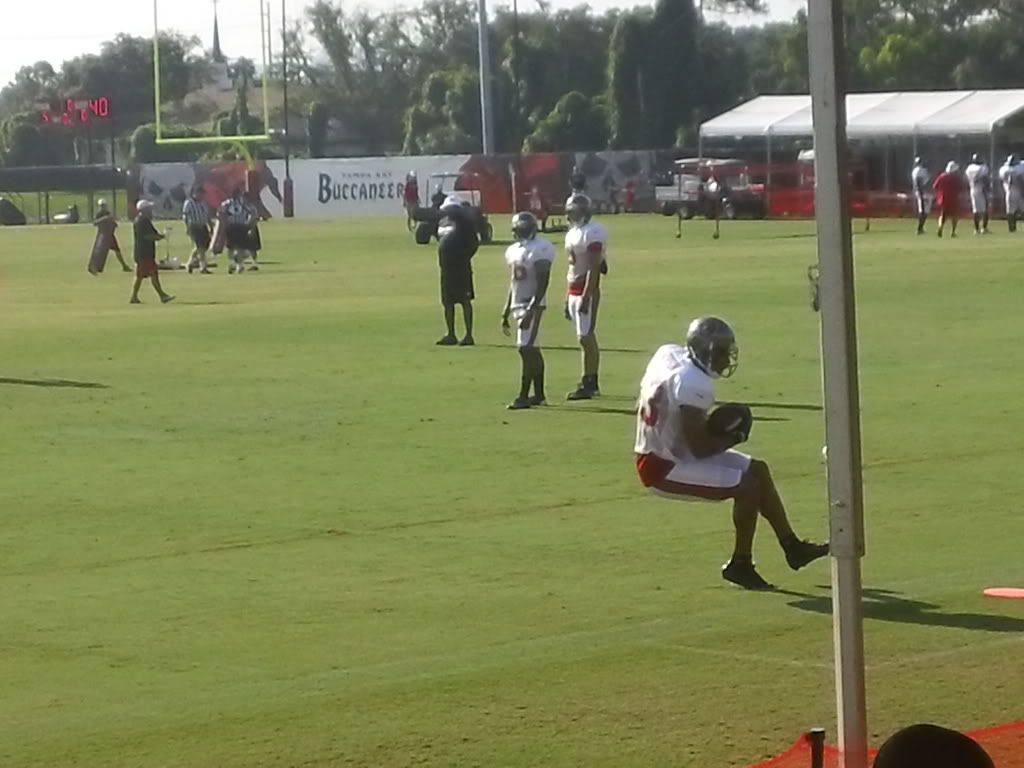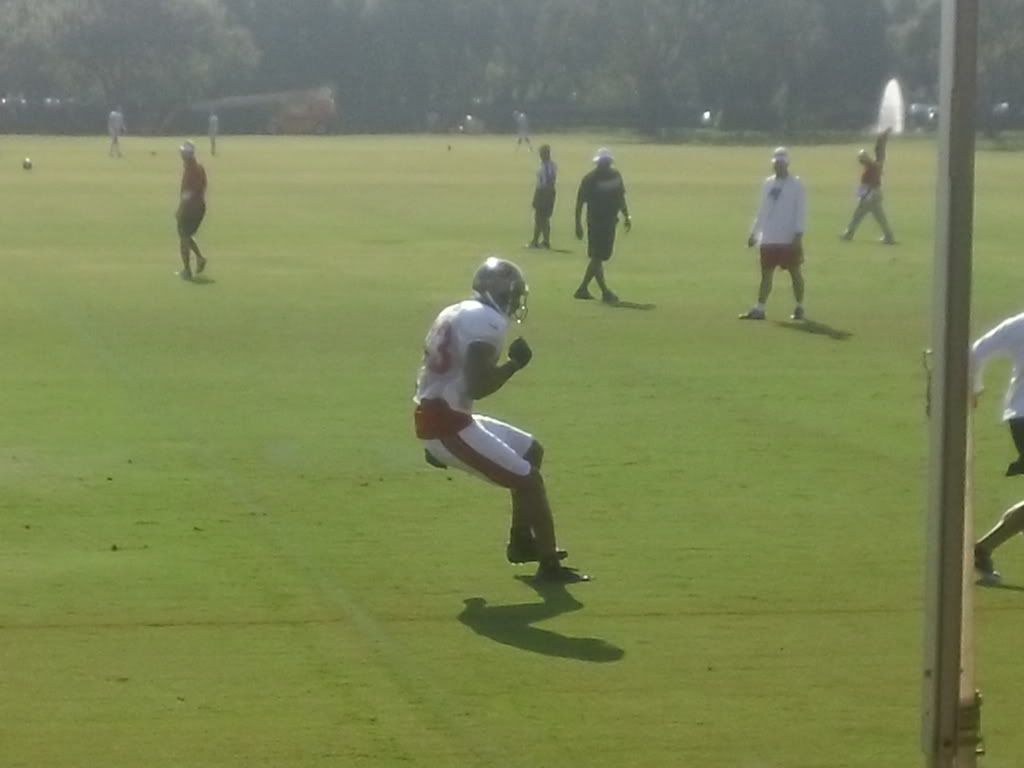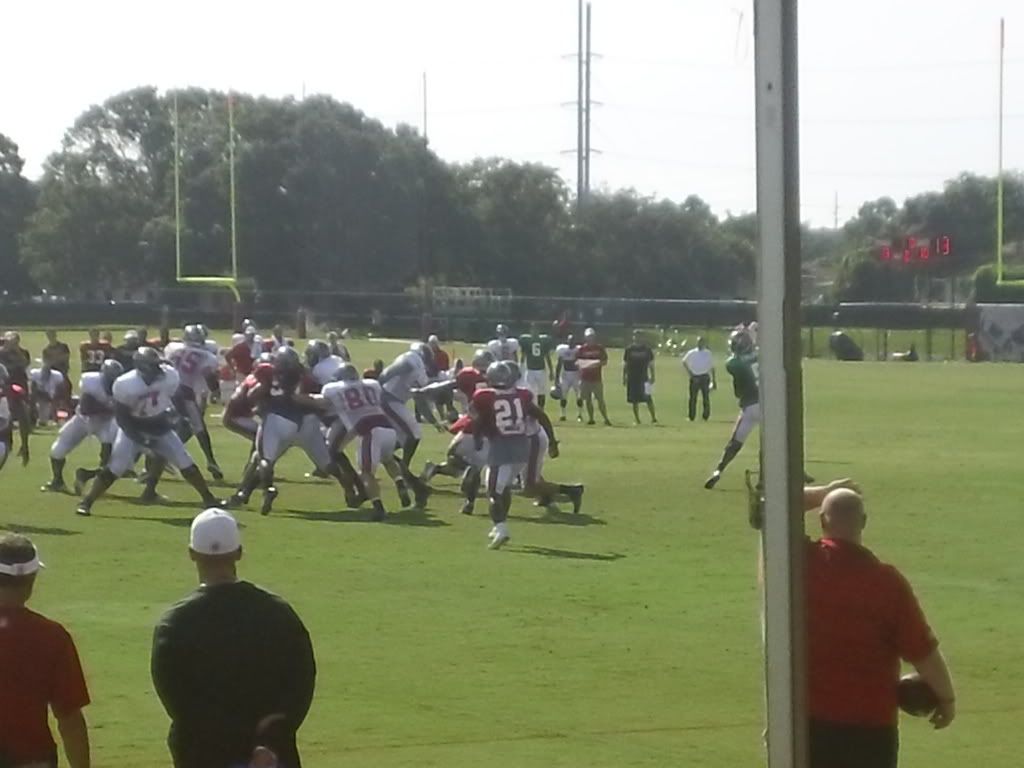 Some of our guys waiting for their turns: (
Dallas Clark
also played well and had a big catch and run after just before this):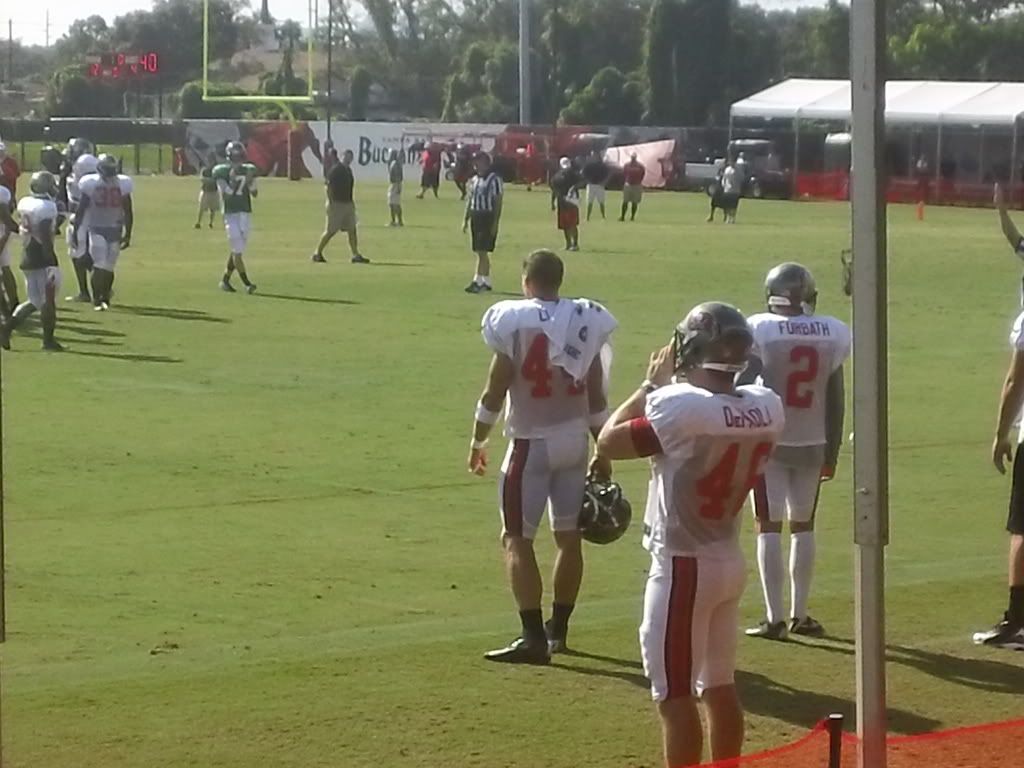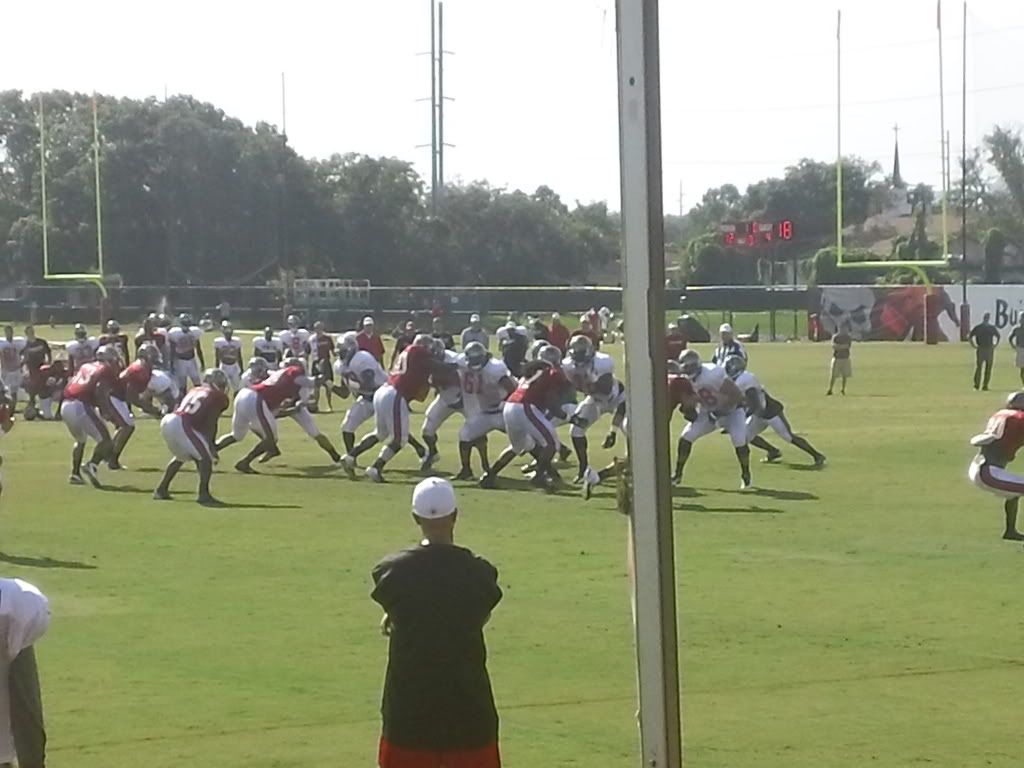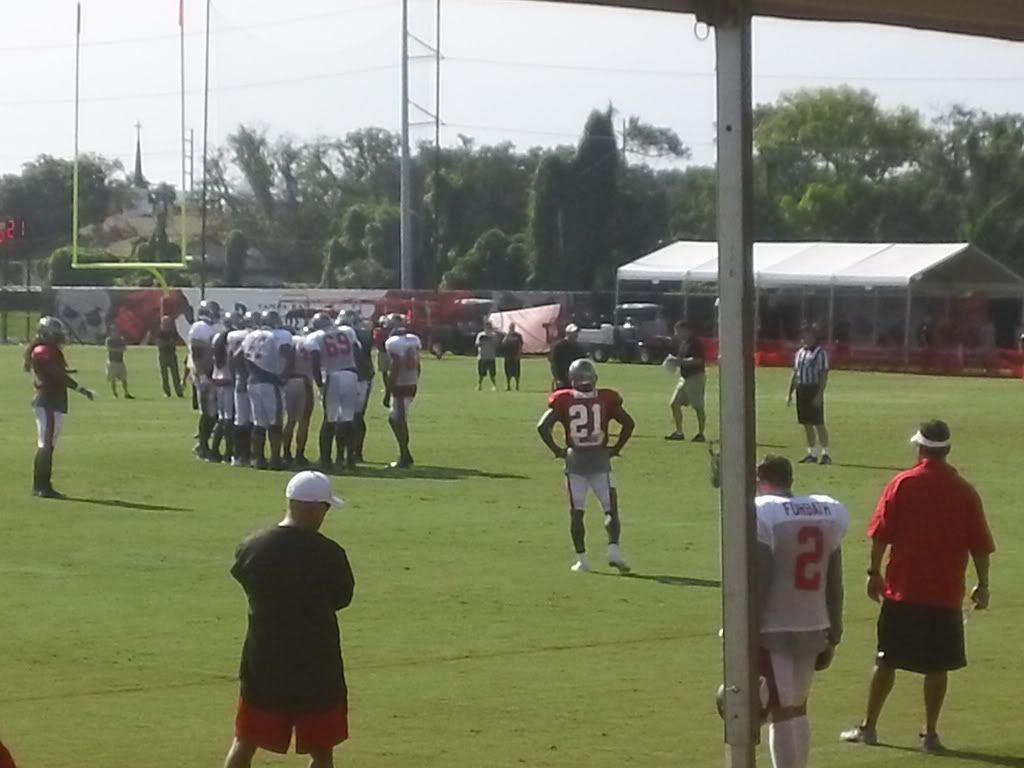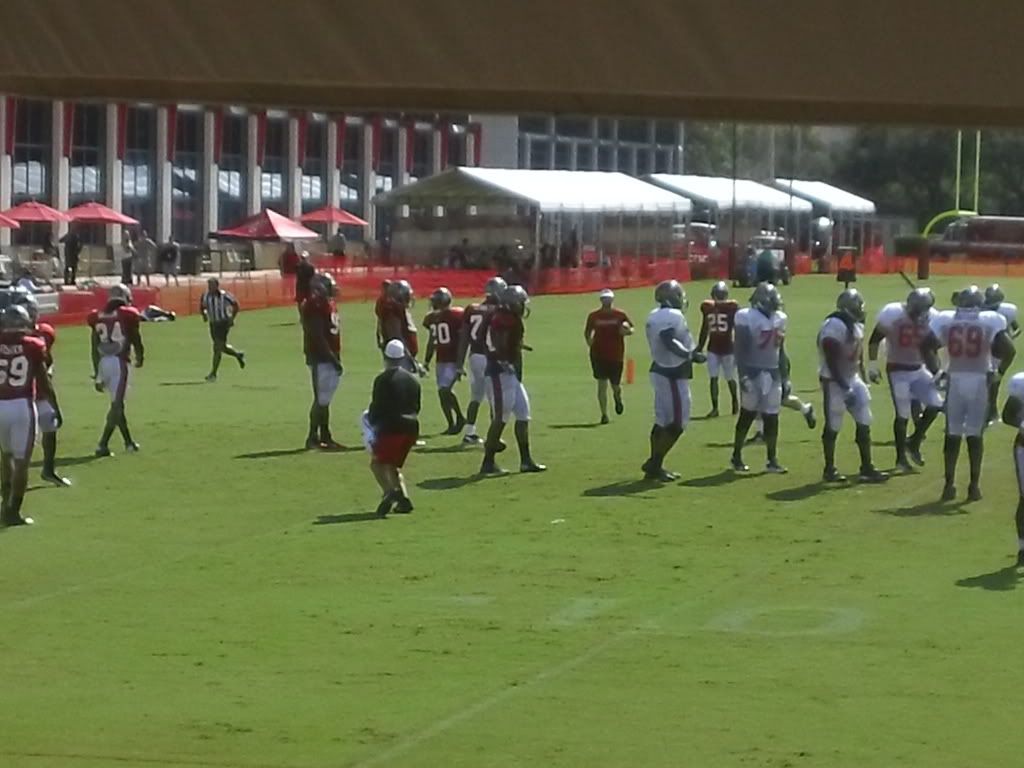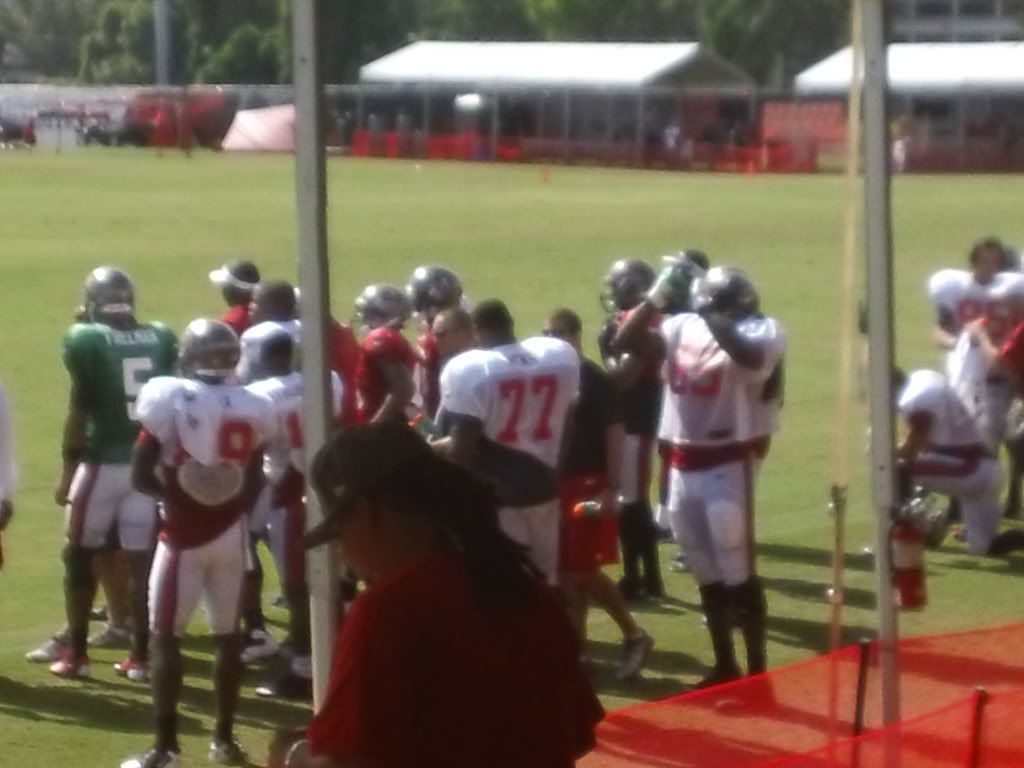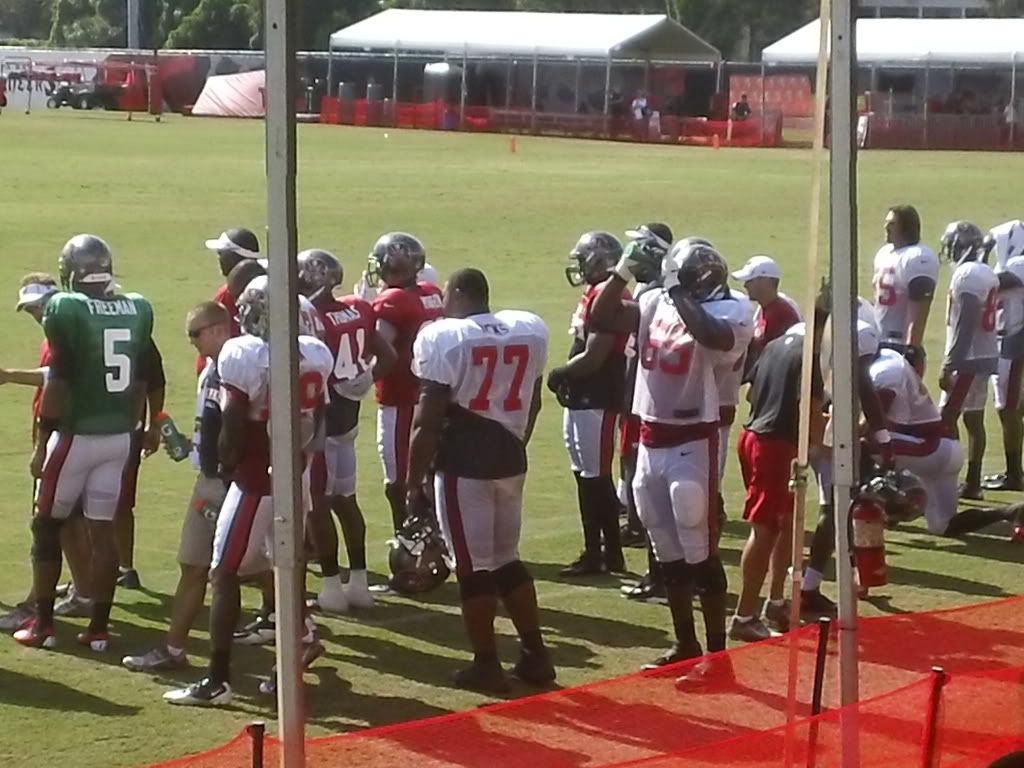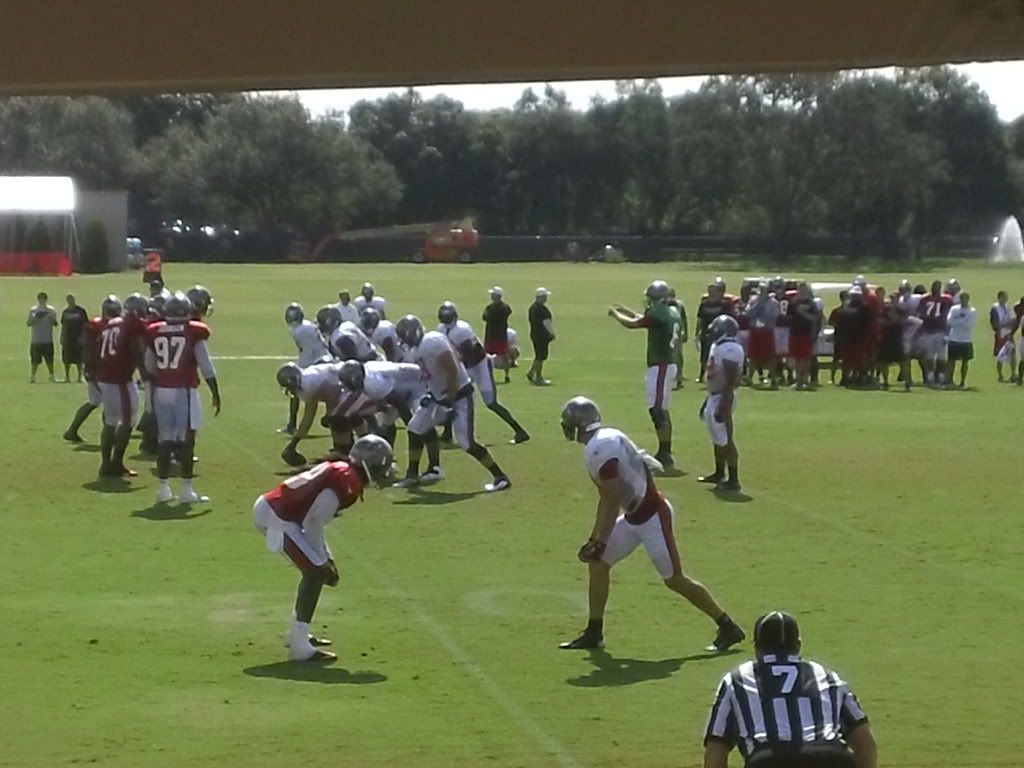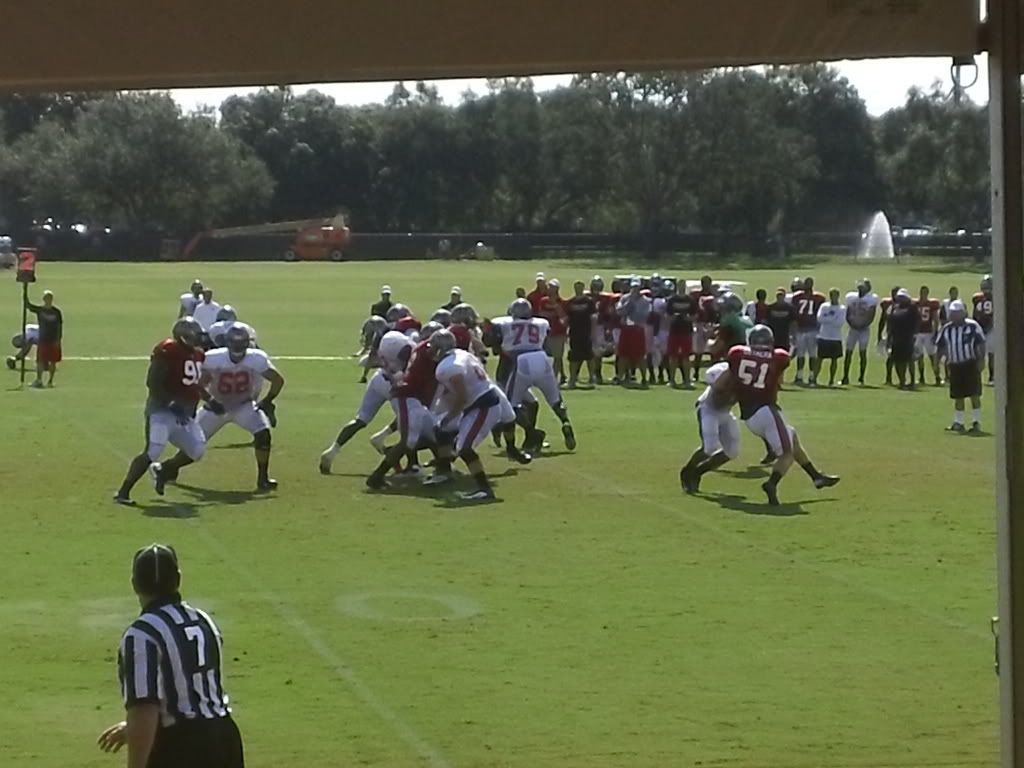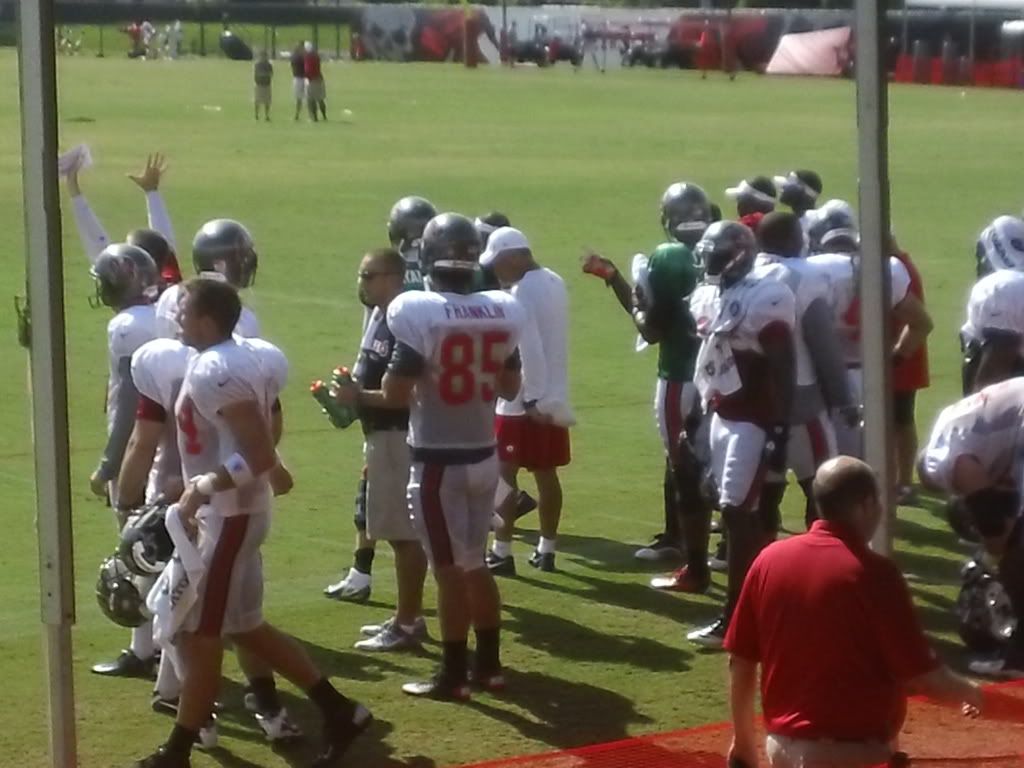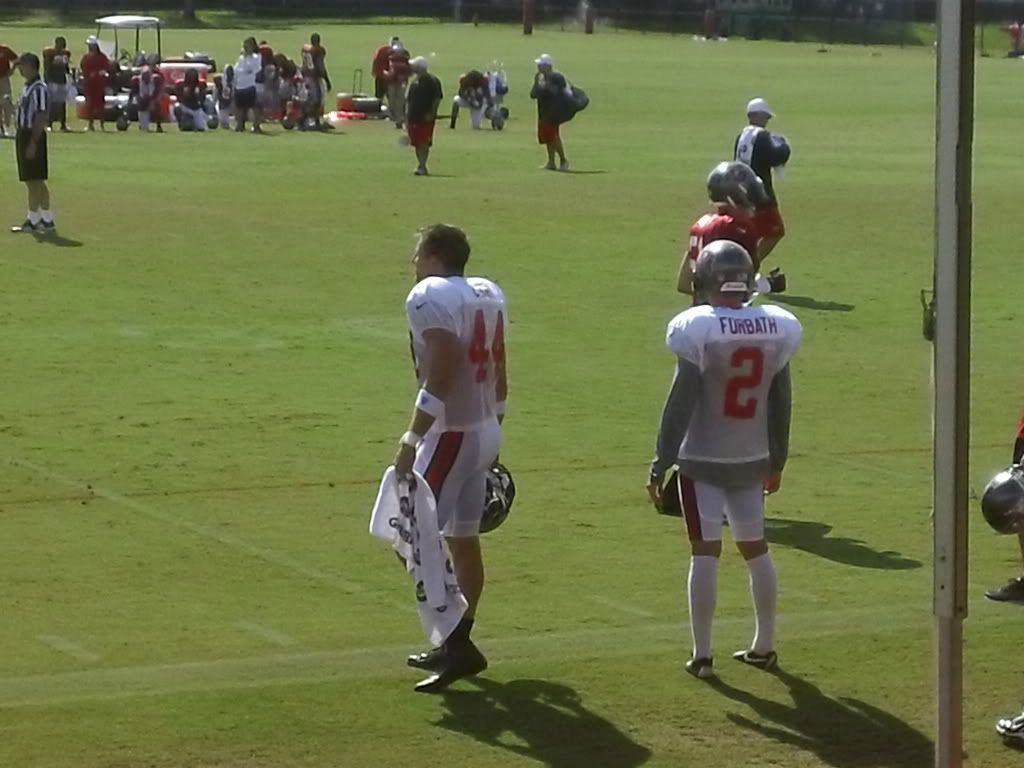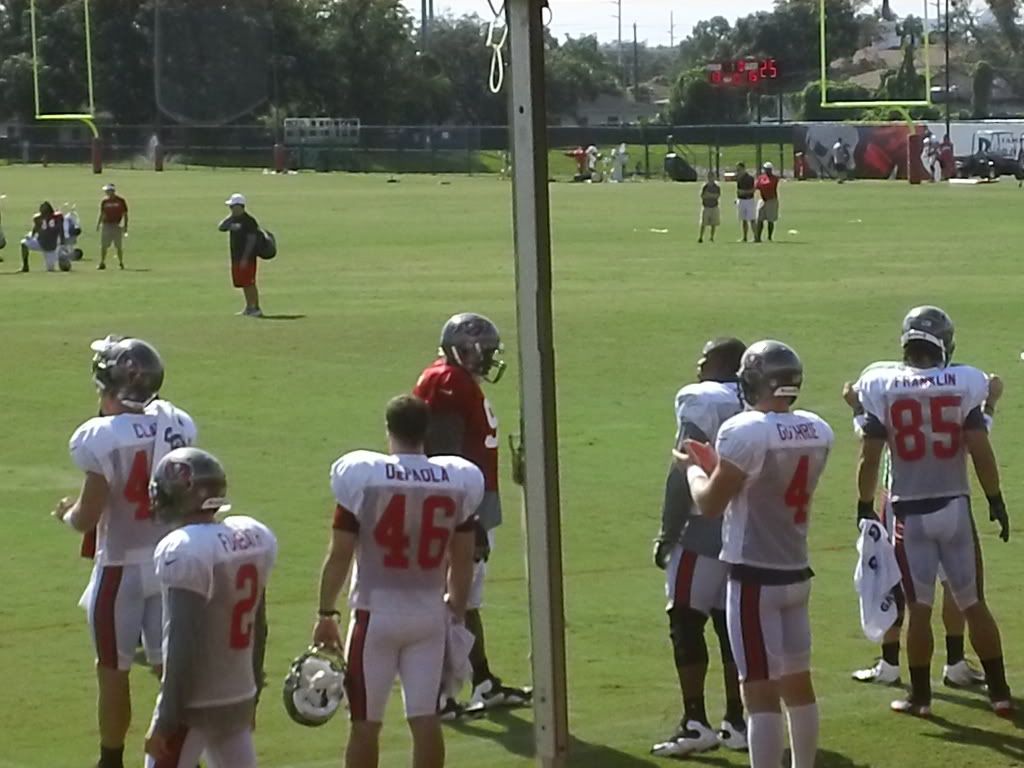 Okam looks like he ate Biggers ans Benn: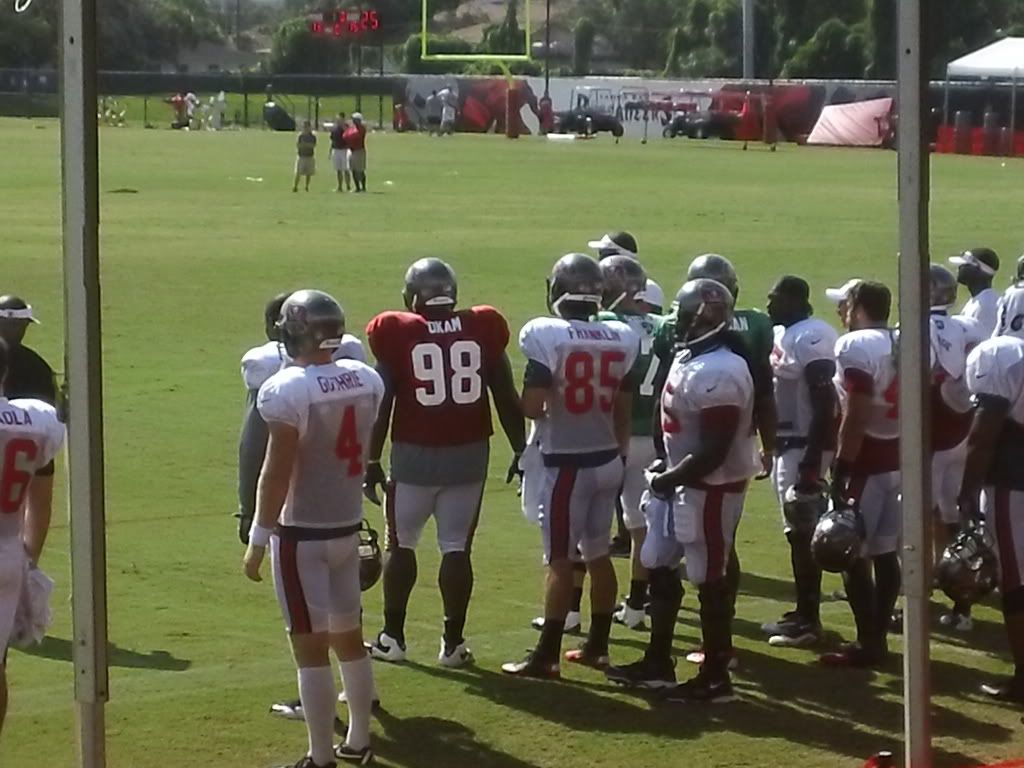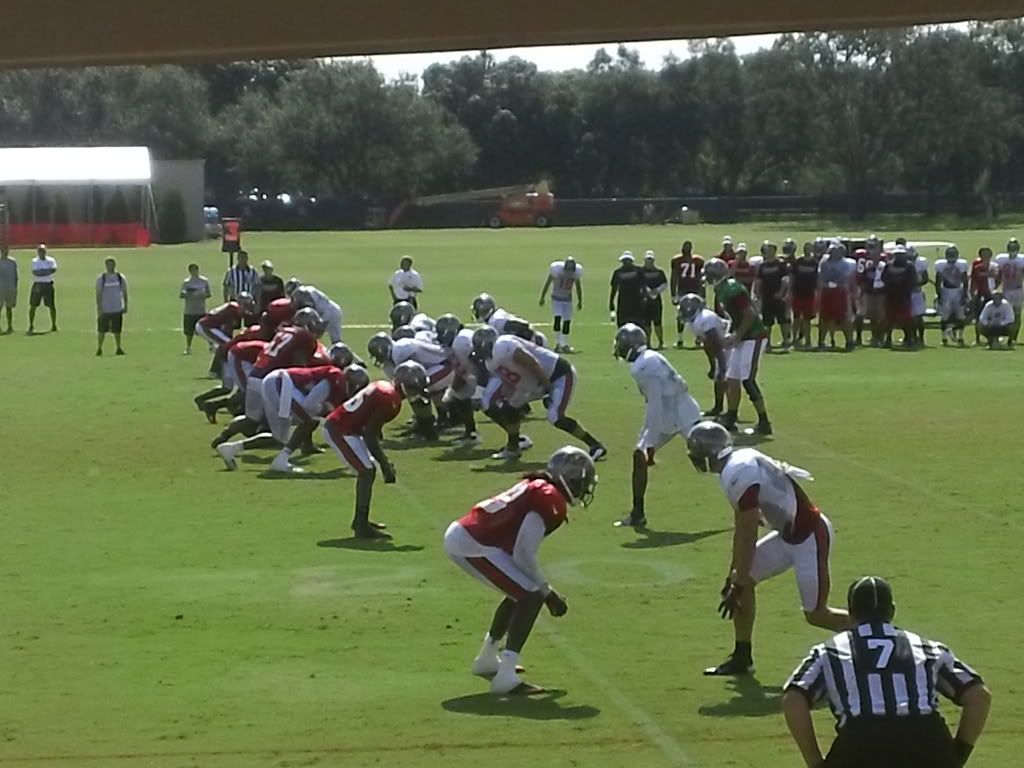 Lets go team!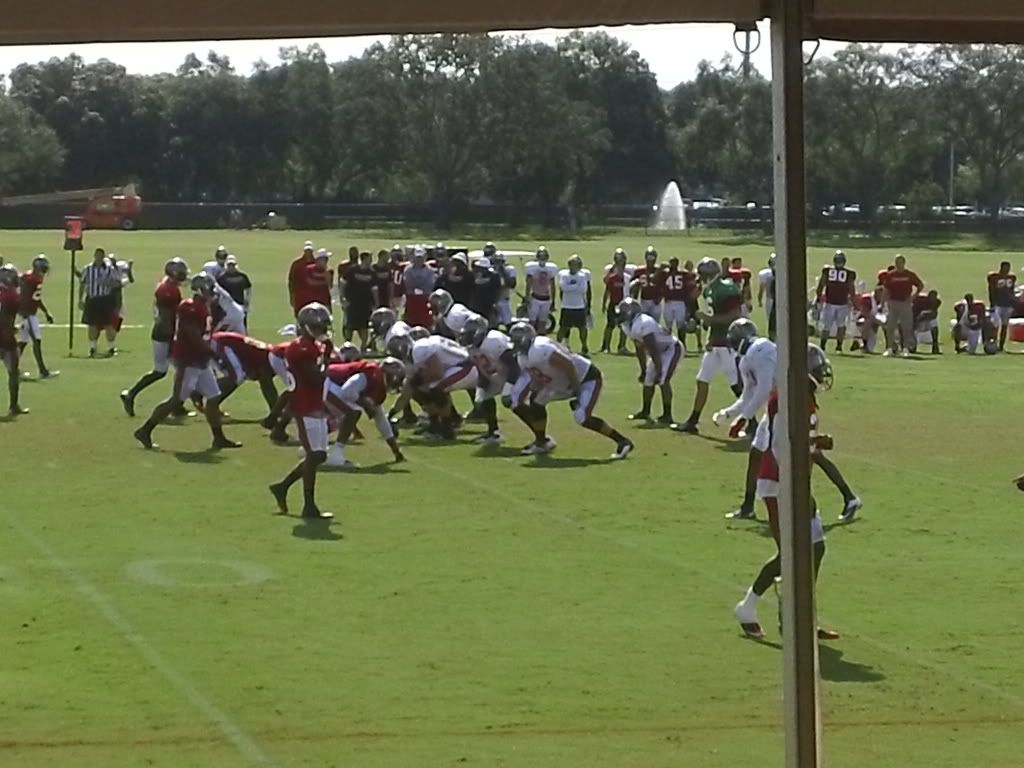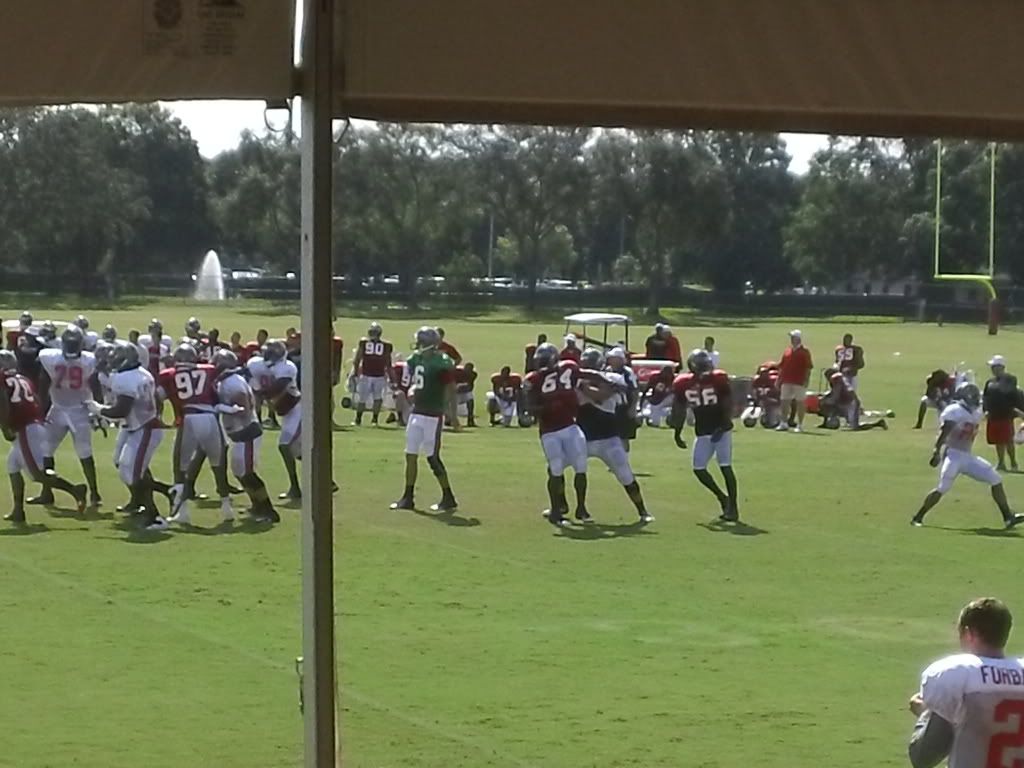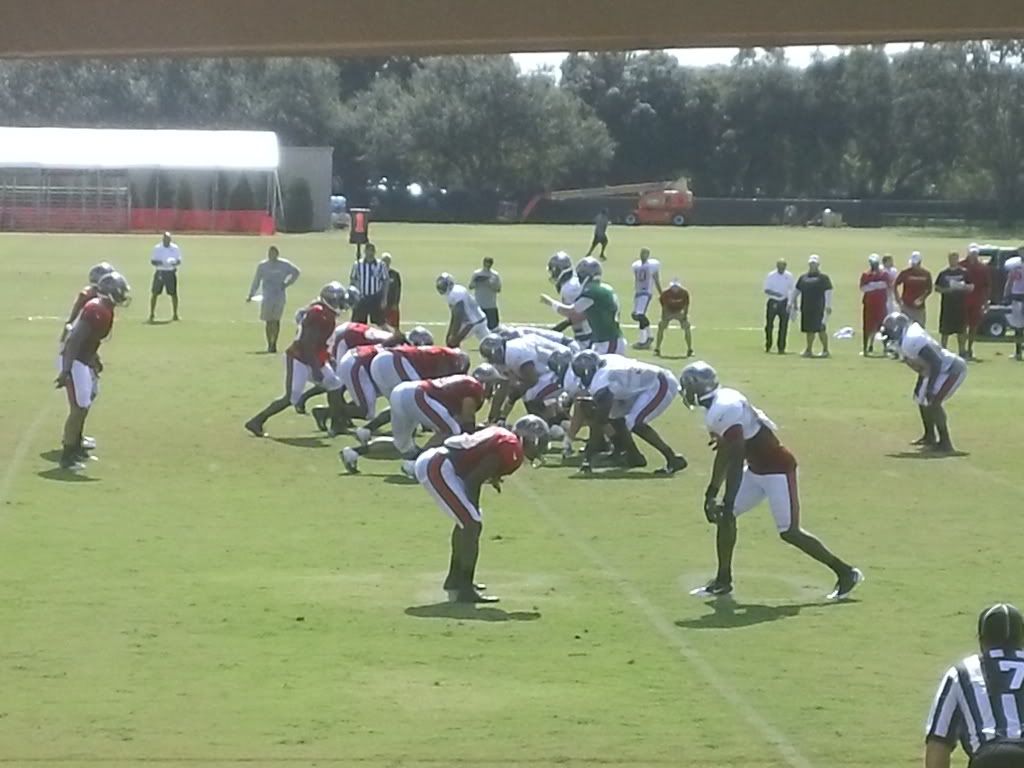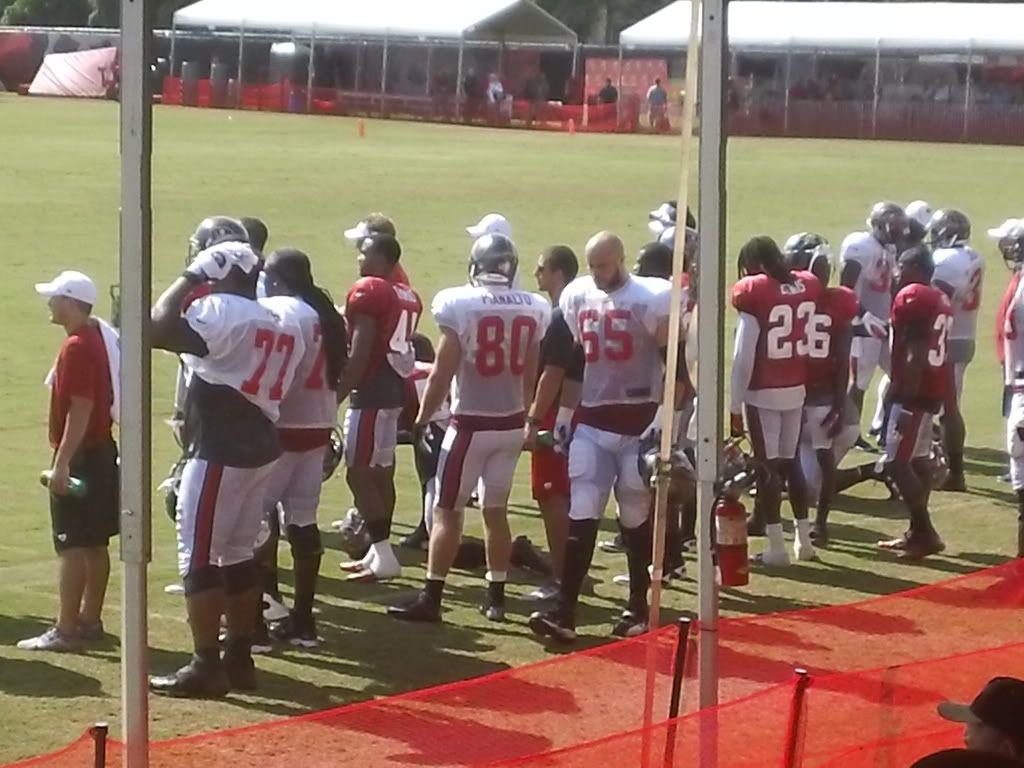 Schiano was all over the place, he was hard to get on camera. The rumors about him being involved on every facet of the game is so true!!!!!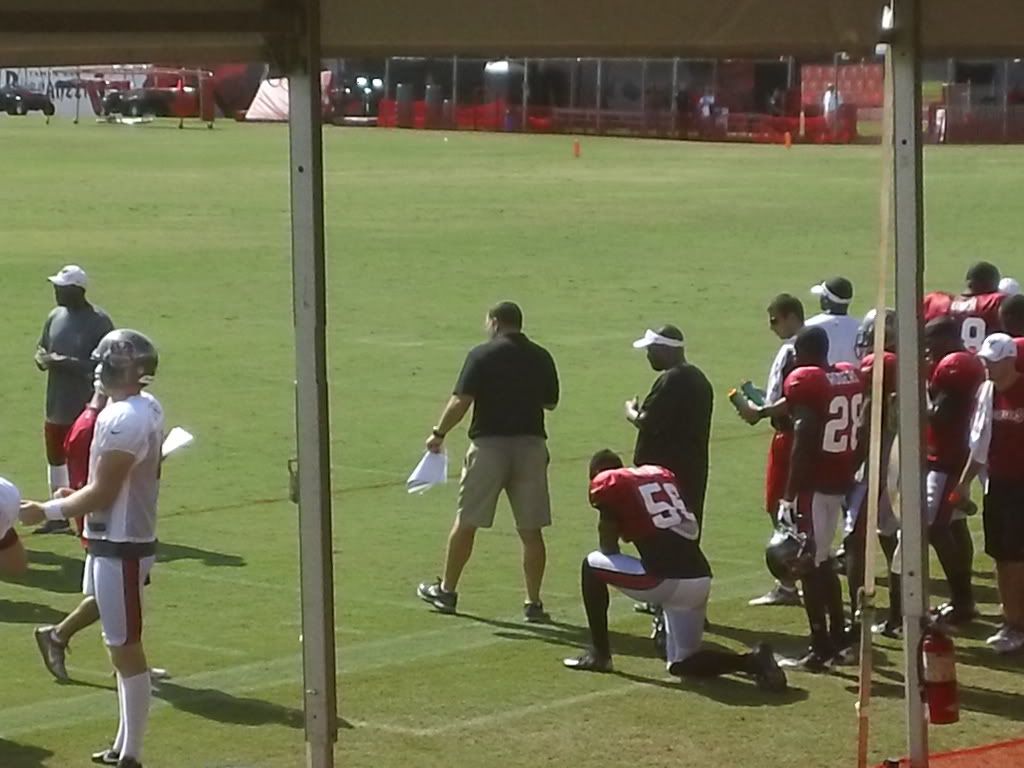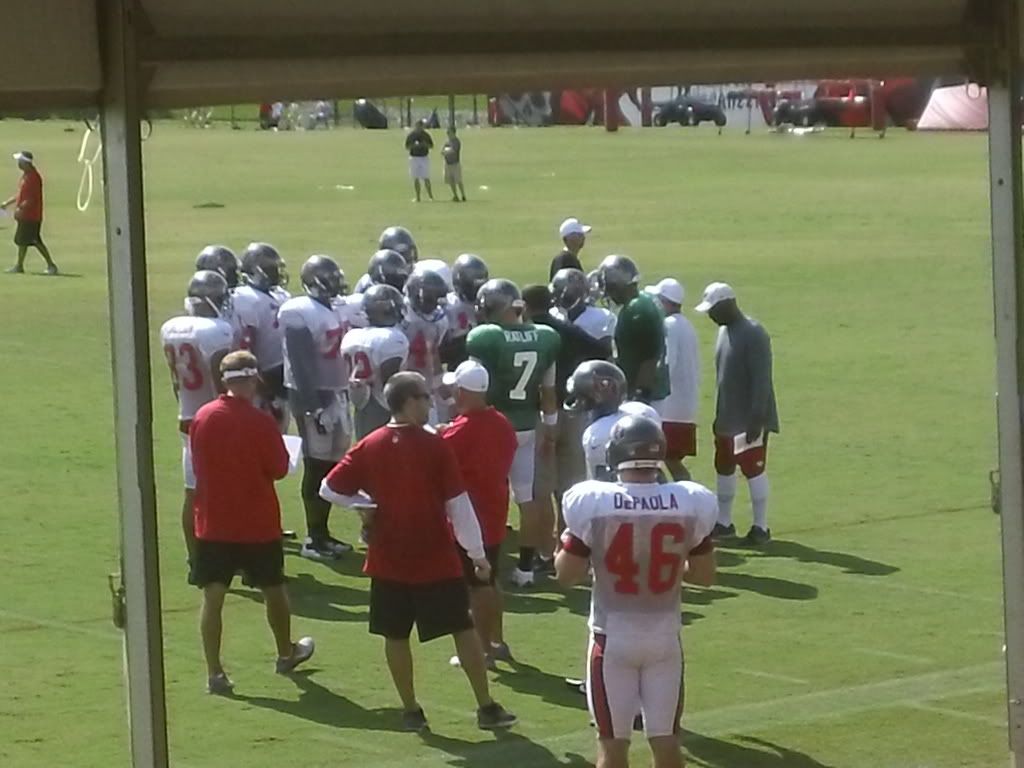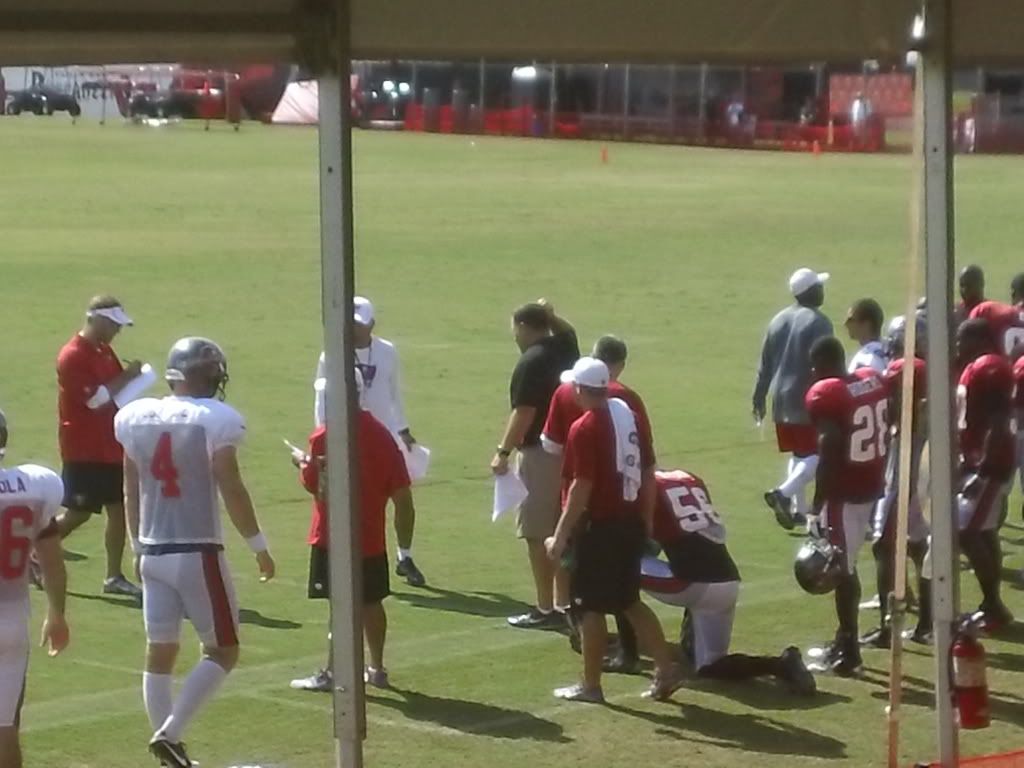 Players love the fans and took the time to show it: Daquan Bowers: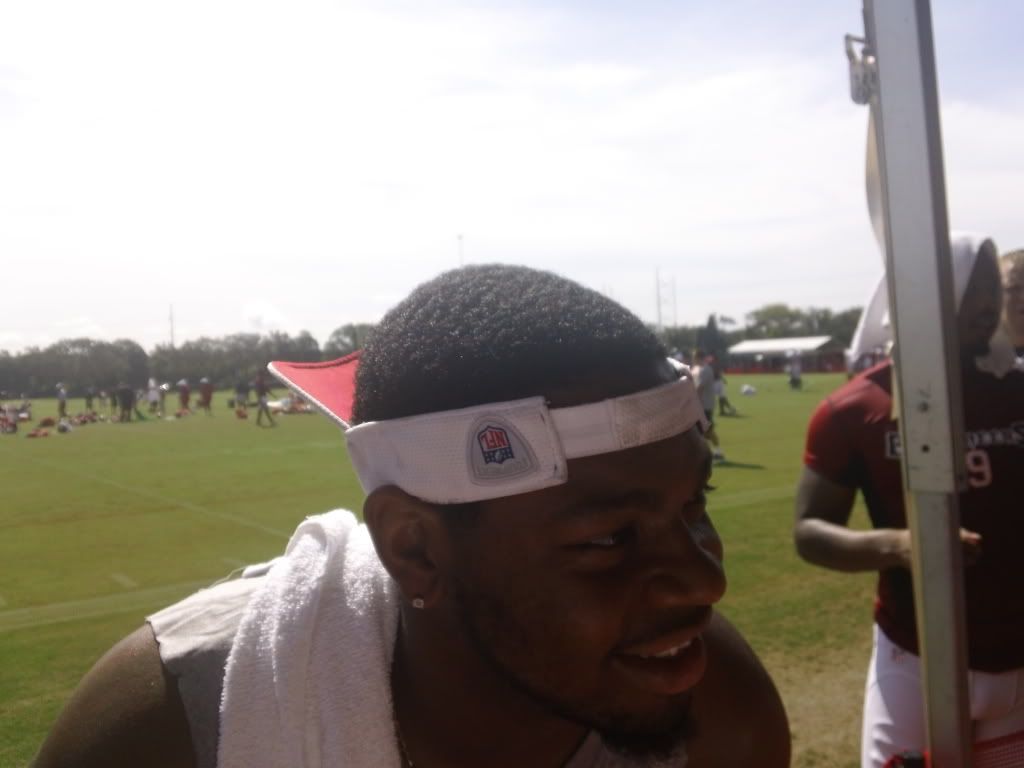 George Johnson
: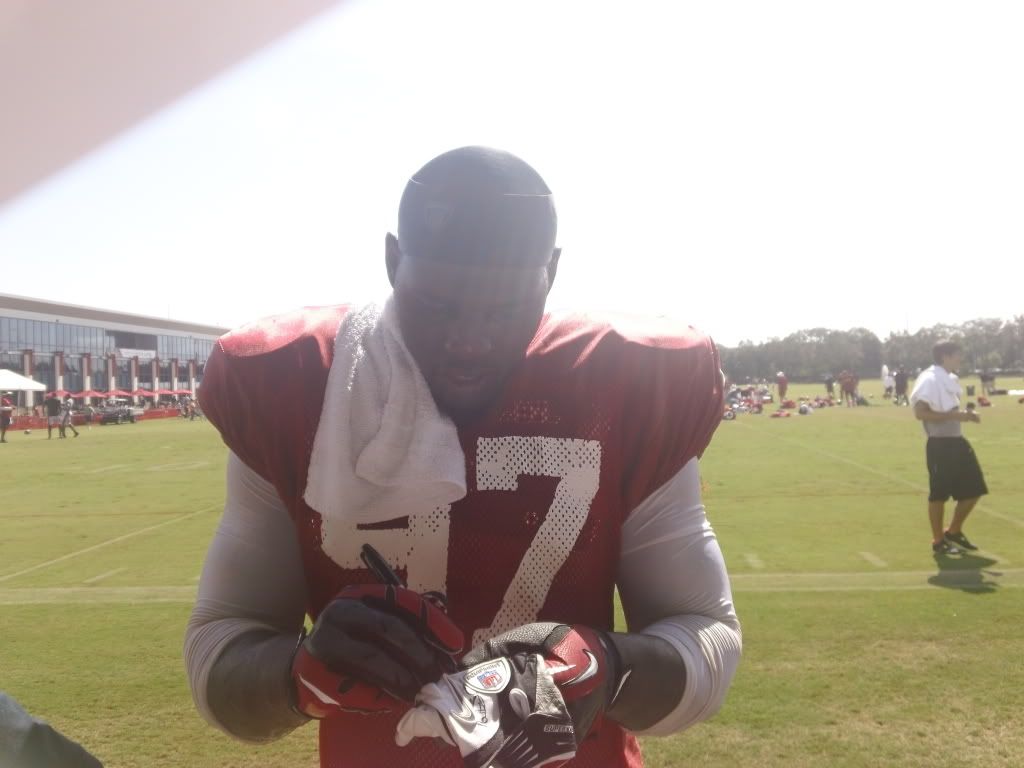 Roy Miller
: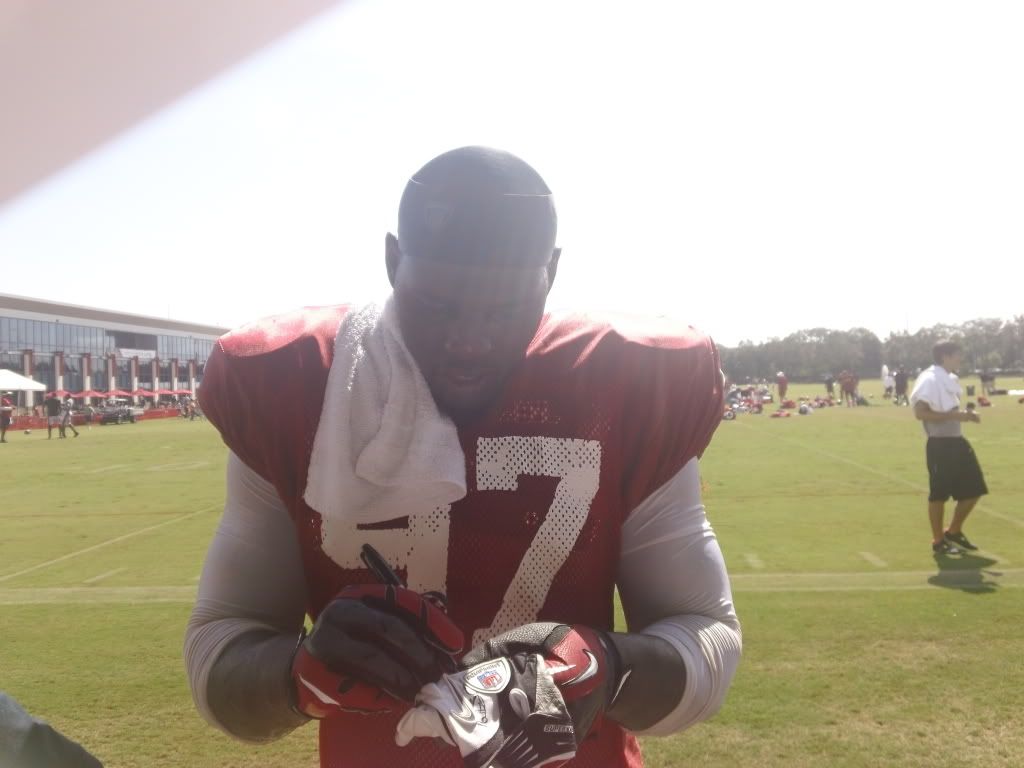 Gerald McCoy
: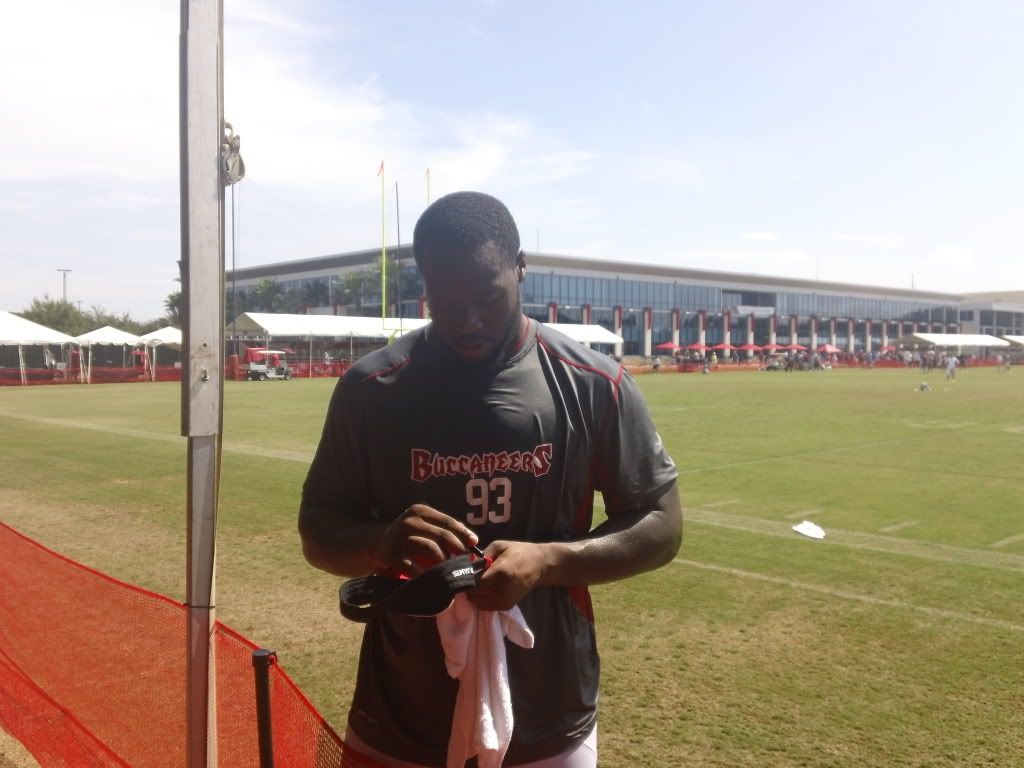 Jeremy Trublood:
Eric Wright
: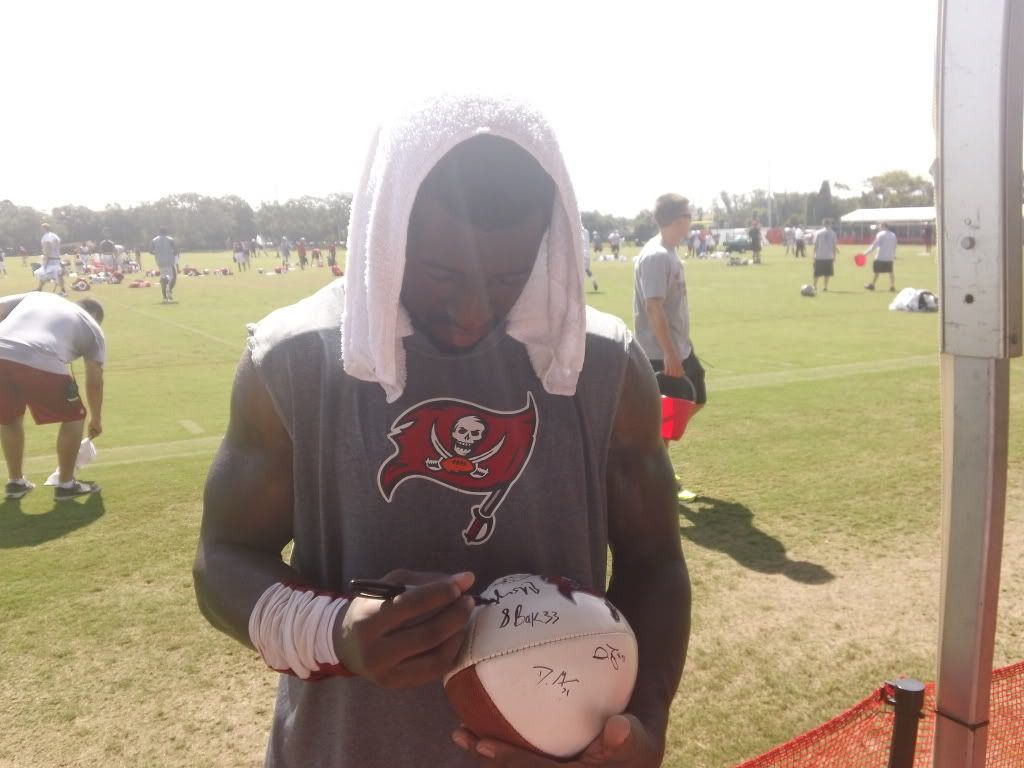 Cody Grimm
(really a nice guy):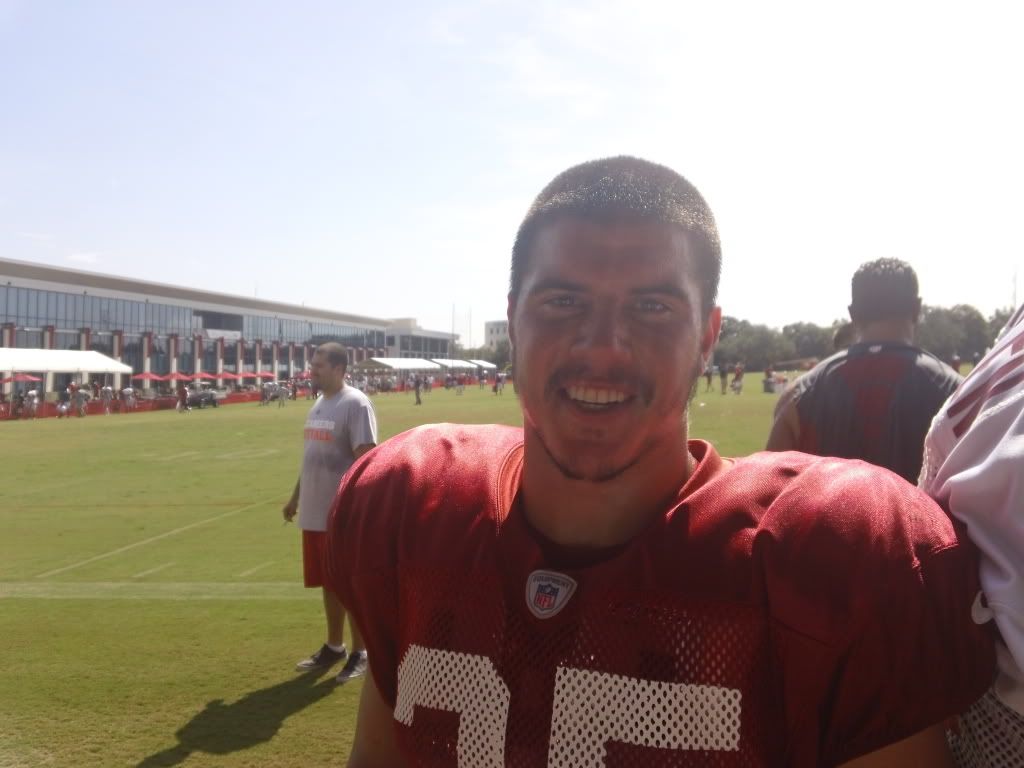 Daniel Teo'Neshiem: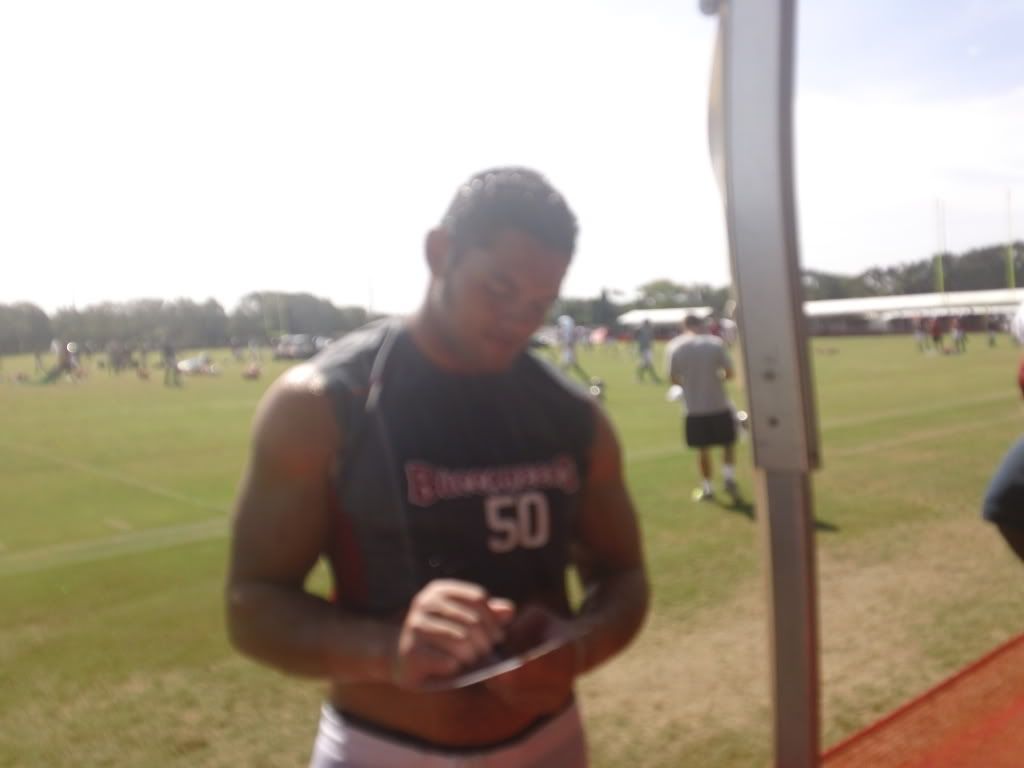 misc bucs:
Look at those arms!!!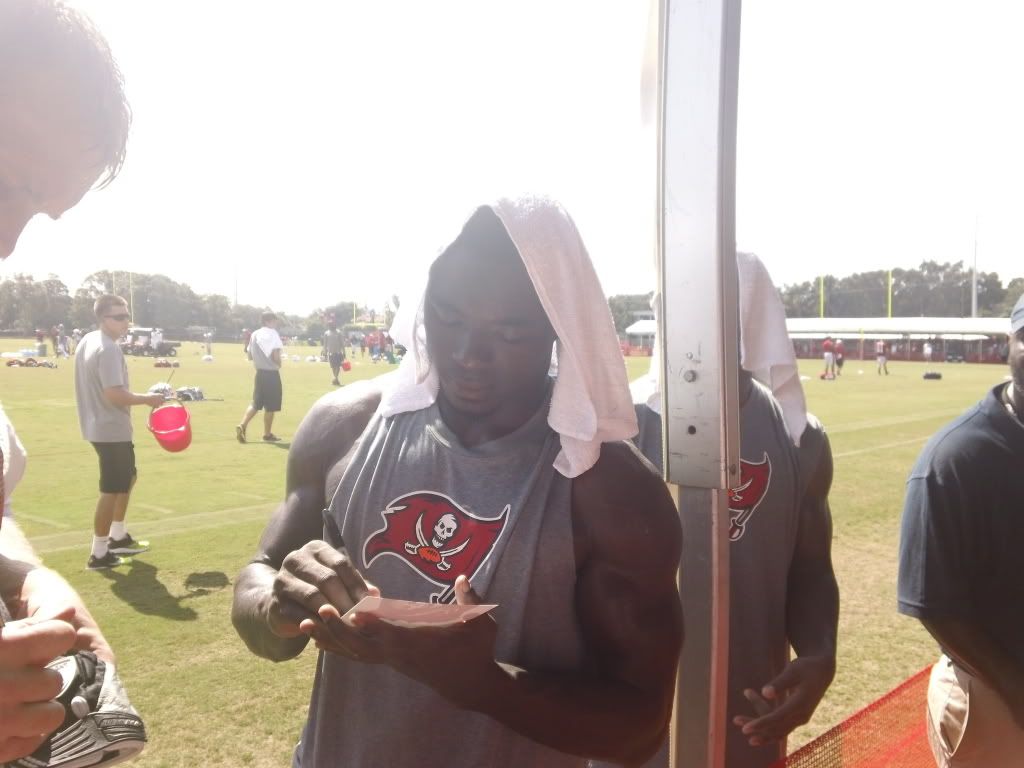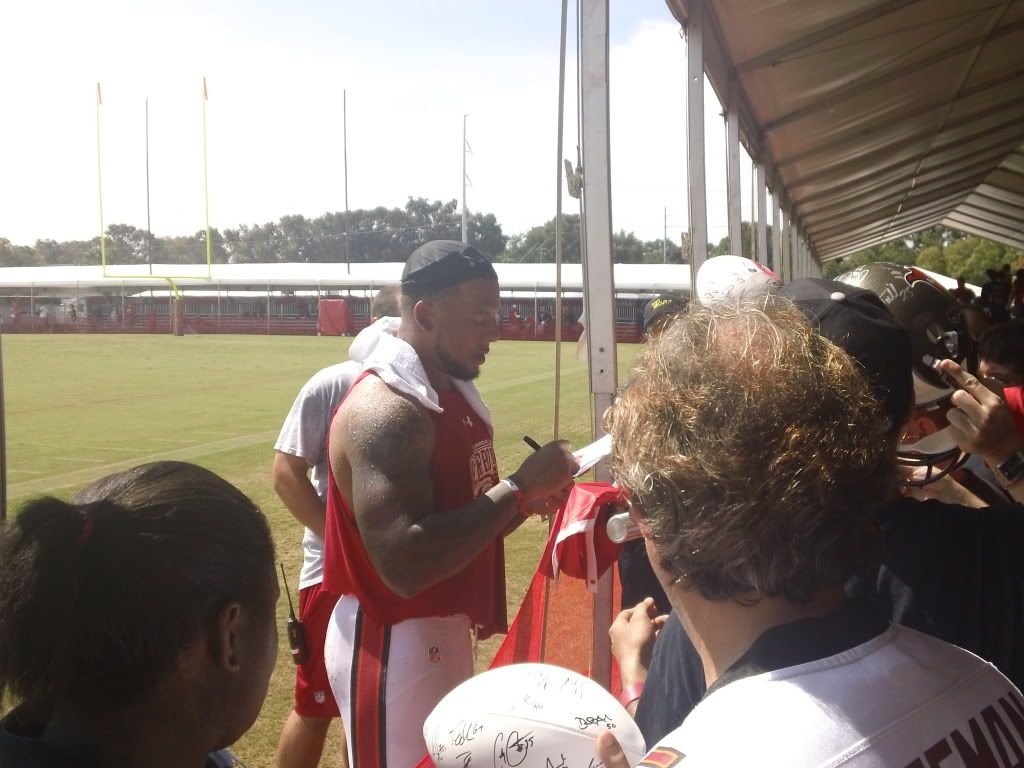 Michael Smith
stayed after practice (yet again) to field punts: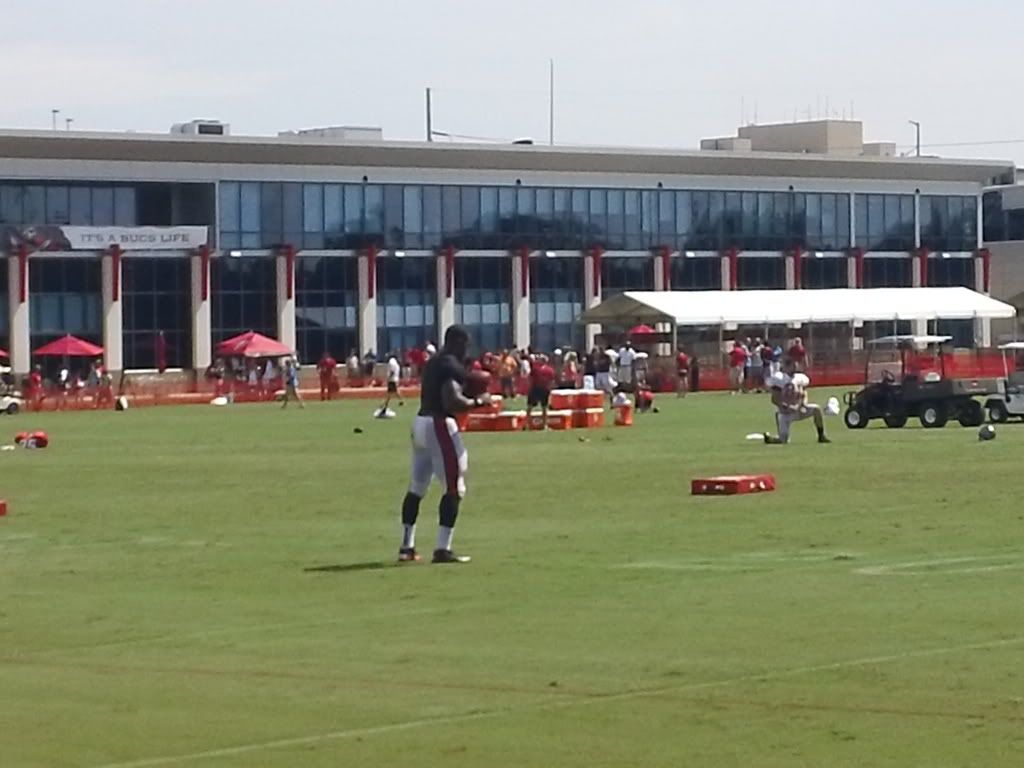 An attempt at videos (again lol) The videos are of game time situations, the crowd noise was being simulated (mostly cause fans really got into it)